As you age, your body produces less collagen. Collagen is a naturally occurring substance that acts as a framework for your skin. As a result, the skin gets thinner and begins to sag. Simultaneously, the face loses volume due to the decrease in facial fat and resorption of the underlying bone.
Dermal fillers are injectable anti-aging treatments that are used to treat fine lines, deep folds and volume loss in the face. The treatment helps to reshape the contours of the face, re-define features such as lips, rehydrate the skin and smooth out wrinkles.
Dermal fillers are made of a variety of substances, however the most popular and safest are made of hyaluronic acid. Hyaluronic acid (HA) is a naturally occurring substance found in our skin that is able to hold water and acts as a cushion-like sponge. This in turn hydrates the skin and acts like a lubricant to reduce damage to the skin, resulting in a youthful, supple and elastic appearance.
At Aesthetic Options, only the most trusted filler brands are used and the specific type is chosen according to the treatment indication by your attending doctor.
Common applications:
Facial Augmentation: Cheeks, nose, lips, chin, and jawline.
Facial Contouring: Temples, sagging lower lids, nasolabial folds, brow lifting.
Fine Facial Lines: Crows feet and smokers lines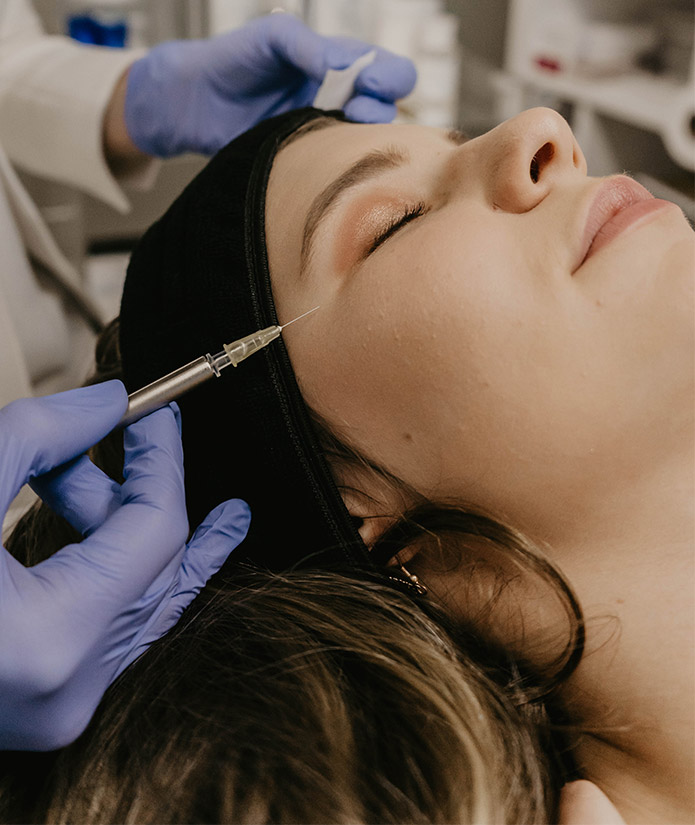 Frequently asked questions
At Aesthetic Options your treatment is performed by a trained medical doctor who will individualise the treatment according to you. Our cosmetic specialist will assess your unique facial concerns and identify the appropriate treatment plan. Our aim is to create a natural, age-appropriate and refreshed look.
The procedure is done in the office and takes less than an hour including consultation. The filler is injected with a small needle or blunt cannula. This is not painful as it is premixed with local anaesthetic. The lip area is more sensitive and requires some topical anaesthetic applied prior to treatment to make it comfortable.
When will I see results and how long will they last?
Dermal filler results are immediate but significant improvement may only be seen after 2 weeks. These results can last from 12 to 18 months depending on the dermal filler used.
Why do we choose Hyaluronic Acid (HA) Dermal Fillers?
Hyaluronic Acid (HA) is a sugar found in human tissues. Some of your body's HA is used as a shock absorber and lubricant for your joints, however most of it is found in your skin, where it offers support to the connective tissues.
HA based dermal fillers are an injectable gel made of re-absorbable, synthetic, non-animal sourced cross-linked hyaluronic acid. An enzyme called hyaluronidase slowly degrades the hyaluronic acid and can be used therapeutically to dissolve unwanted filler.
Injected Hyaluronic Acid is therefore a natural substance found in the skin and is the filler of choice for many doctors worldwide since it is unlikely that anyone will have an allergic reaction; it is stable and injects smoothly.
Have more questions or want to book a consultation?
" The best place to go. "
" Very good place to go to. Service is great, and Ruan is very professional. Will definitely be going back there. "
" Professional and experienced team providing best advice and treatments for your particular needs whether it be facial or body aesthetics. "
" Love love love this beautiful practice!
I have been getting laser hair removal treatments from Christelle and have been seeing amazing results! She is very professional and great at what she does. Quick and easy procedure that's practically pain-free.
I have also gotten Botox before from Dr Leon Ehlers for my gummy smile which showed amazing results and I was super happy with it!
Highly recommended! The friendly staff and beautiful view is an added bonus 🙂 "
" Where do I begin to thank Dr. Ehlers and his wonderful team. Impeccable customer care and facilities. I am extremely happy with my results. "
Michelle Cayleigh Roberts
" I'm incredibly impressed by this practice. I was treated by Dr Ehlers who was professional, had an excellent bedside manner and focused on my exact concerns. After my botox treatments my deep frown lines, that previously made me look angry, have completely disappeared. "
" A truly revolutionary one stop shop for anything health and aesthetic related!
I asked if they could help & #THEYSAIDYES
The team is friendly, warm, inviting and unbelievably forth coming! a team that now feels like family. For years i struggled with sinuses, only for the team to resolve this through blood tests and eliminating the food offenders, treating the cause! "