Plasma pen soft surgery is the next generation of technology used for skin tightening and collagen production. At Aesthetic Options, we use the Jett Plasma Lift Pen – the world's first patented direct current electrocautery device used for aesthetic medicine.
The Jett Plasma Lift Pen medical uses revolutionary technology based on electrical discharge (plasma) which is generated between the safe, high-voltage tip of the device and the treated area. The technology is extremely precise and only penetrates the superficial layer of the skin, causing instant contraction and tightening, leaving behind a trace of carbon in the form of a crust. This crust heals, leaving the treated skin looking tighter and rejuvenated. The plasma is able to produce a significant amount of collagen contraction and production in the skin in areas we were previously not able to treat as effectively non-surgically.
One of the most exciting Jett Plasma treatments is the non-surgical eye-lift, also referred to as a blepharoplasty. An eye-lift can take years off someone's face, but because of the surgical risks involved, it's an aesthetic concern commonly left untreated.
The Jett Plasma eye-lift produces results equivalent to open surgery, or even better. Furthermore, it is safe, quick, more affordable and delivers almost instant results. With Jett Plasma, you can simultaneously treat upper and lower eyelids and it can be used to erase wrinkles and permanent expression lines around the eyes.
Jett Plasma Soft Surgery At A Glance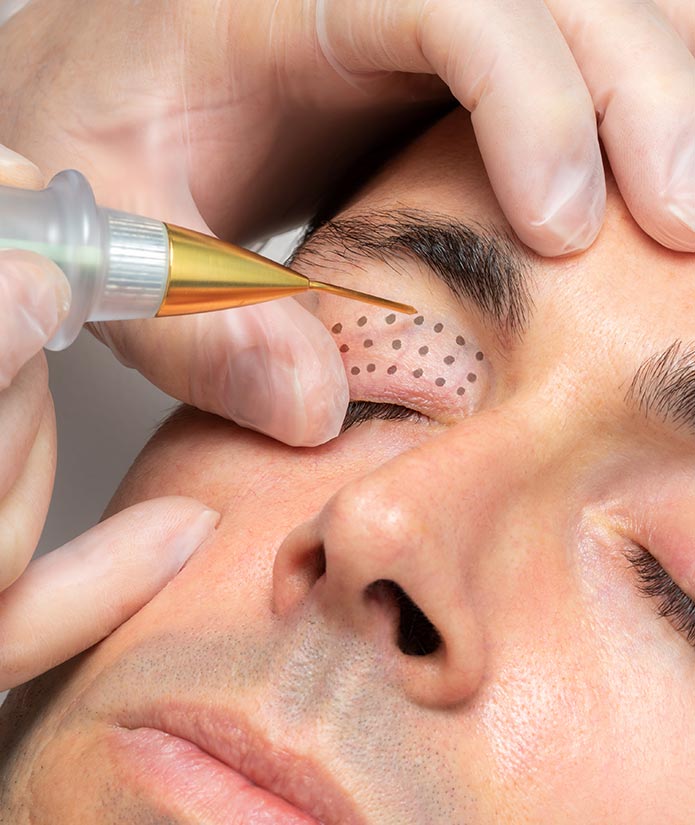 Frequently asked questions
The term "Soft Surgery" is used to describe the effects of the plasma pen device because it delivers surgical results, but with no scalpel, wounds or stitches, no bandages and minimal downtime. It implies minimally invasive procedures, with lower risk and at a more affordable price.
What can I expect and what are the benefits?
Jett Plasma treatments are convenient, quick and performed by a trained doctor. An injectable local anaesthetic or topical anesthetic cream is applied prior to the treatment and the treatment time depends on the area being treated, but typically it's between 20min and 40min. When comparing a Jett Plasma treatment to the cost of traditional, open surgery, it is about 50 – 75% less.
Other benefits include:
No surgery required, which means no stiches and reduced risk of scarring
Little to no down time
Lower risk than surgery
More affordable than surgery
No thinning of the skin – more uniform results compared to ablative resurfacing lasers
Long lasting results – usually around 2-3 years and can be permanent
What areas can be treated with the Jett Plasma Pen?
Jett Plasma can treat a vast number of indications, but one of the most exciting Jett Plasma treatments is the non-surgical eye-lift (blepharoplasty).
Among offering the best non-surgical eye-lift, Jett Plasma has a long list of other dermatological uses too:
Active acne
Acne scars
Wrinkles and permanent expression lines
Xanthelasmas
Non-cancerous skin growths – skin tags, warts, moles, naevi, fibromas
Keloids
Striae / stretch marks
Tattoo removal
White spots / sun spots (by restoring normal colour)
Have more questions or want to book a consultation?
" The best place to go. "
" Very good place to go to. Service is great, and Ruan is very professional. Will definitely be going back there. "
" Professional and experienced team providing best advice and treatments for your particular needs whether it be facial or body aesthetics. "
" Love love love this beautiful practice!
I have been getting laser hair removal treatments from Christelle and have been seeing amazing results! She is very professional and great at what she does. Quick and easy procedure that's practically pain-free.
I have also gotten Botox before from Dr Leon Ehlers for my gummy smile which showed amazing results and I was super happy with it!
Highly recommended! The friendly staff and beautiful view is an added bonus 🙂 "
" Where do I begin to thank Dr. Ehlers and his wonderful team. Impeccable customer care and facilities. I am extremely happy with my results. "
Michelle Cayleigh Roberts
" I'm incredibly impressed by this practice. I was treated by Dr Ehlers who was professional, had an excellent bedside manner and focused on my exact concerns. After my botox treatments my deep frown lines, that previously made me look angry, have completely disappeared. "
" A truly revolutionary one stop shop for anything health and aesthetic related!
I asked if they could help & #THEYSAIDYES
The team is friendly, warm, inviting and unbelievably forth coming! a team that now feels like family. For years i struggled with sinuses, only for the team to resolve this through blood tests and eliminating the food offenders, treating the cause! "