Lipolysis is a procedure used to dissolve stubborn localised fat deposits targeting deeper layers underneath skin. This procedure is specifically meant for areas of fat that are resistant to the effects of weight loss through healthy dieting and exercise.
An active substance is injected directly into the subcutaneous tissue with the aim to destroy localised fat deposits, without affecting surrounding fat tissue. The main role of active ingredient that is usually used, is to help emulsify and break down fat and cholesterol. This procedure is indicated for smaller localized areas to enhance contouring and not for generalised weight loss. It is most effective when combined with a healthy diet and exercise regime as weight gain may affect results.
Common areas treated:
Jowls
Double chin
Love handles
Saddle bulge
Bra bulge
Stomach
Lipolysis Injections At A Glance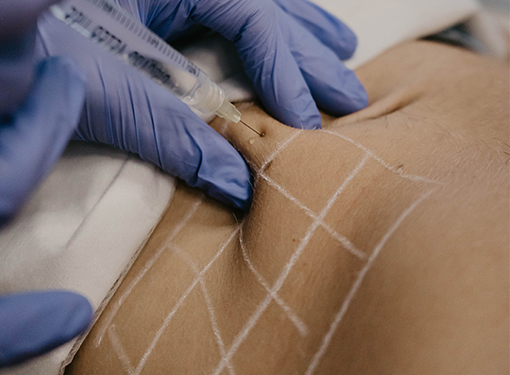 Frequently asked questions
At Aesthetic Options we utilize Ceccarelli solution or Phosphatidylcholine (PPC) sterile solutions depending on the area treated and the client's requirements. The procedure is performed by a trained doctor and involves a series of injections at specific points into the adipose tissue which allows the fat to be safely broken down and slowly eliminated from the body.
A slight burning sensation during the injection is expected and an anaesthetic cream can be applied to ease the discomfort.
Clients may experience some soreness, bruising, and mild swelling in the injected area lasting 1-2 week.
How many lipolysis sessions do I need?
The number of sessions needed differs from one person to the next due to individual responses to the medication and the type of fat being treated. Soft, stubborn fat is easier to treat than fibrous fat. During the consultation, you will be informed as to how many sessions you will need to achieve your desired result. Very small areas such as a double chin respond well to treatments and may take only 2-3 sessions where as other areas may require 4 or more treatment.
However, during consultation you will be medically examined to find out do you have any underlying medical condition that keeps you from not being able to get rid of localised fat.
We may recommend an integrative medicine approach, and suggest combing your procedure with other treatment modalities such as Radiofrequency or Carboxy Therapy to achieve desirable results
Have more questions or want to book a consultation?
" The best place to go. "
" Very good place to go to. Service is great, and Ruan is very professional. Will definitely be going back there. "
" Professional and experienced team providing best advice and treatments for your particular needs whether it be facial or body aesthetics. "
" Love love love this beautiful practice!
I have been getting laser hair removal treatments from Christelle and have been seeing amazing results! She is very professional and great at what she does. Quick and easy procedure that's practically pain-free.
I have also gotten Botox before from Dr Leon Ehlers for my gummy smile which showed amazing results and I was super happy with it!
Highly recommended! The friendly staff and beautiful view is an added bonus 🙂 "
" Where do I begin to thank Dr. Ehlers and his wonderful team. Impeccable customer care and facilities. I am extremely happy with my results. "
Michelle Cayleigh Roberts
" I'm incredibly impressed by this practice. I was treated by Dr Ehlers who was professional, had an excellent bedside manner and focused on my exact concerns. After my botox treatments my deep frown lines, that previously made me look angry, have completely disappeared. "
" A truly revolutionary one stop shop for anything health and aesthetic related!
I asked if they could help & #THEYSAIDYES
The team is friendly, warm, inviting and unbelievably forth coming! a team that now feels like family. For years i struggled with sinuses, only for the team to resolve this through blood tests and eliminating the food offenders, treating the cause! "