Threads are a technological innovation offering men and women what no treatment has ever provided in such a simple and minimally invasive way: a reshaped face and restored volume by means of a 30-minute treatment. Sometimes referred to as the "lunchtime facelift" this quick, limited pain procedure has minimal downtime, mitigating the need for actual surgery and allowing the patient to quickly return to their full social life.
Combatting the signs of ageing means restoring smoother and more toned skin, but also providing a more youthful shape to the face. To meet this dual requirement, thread lifting combines two effects: lifting and regenerating.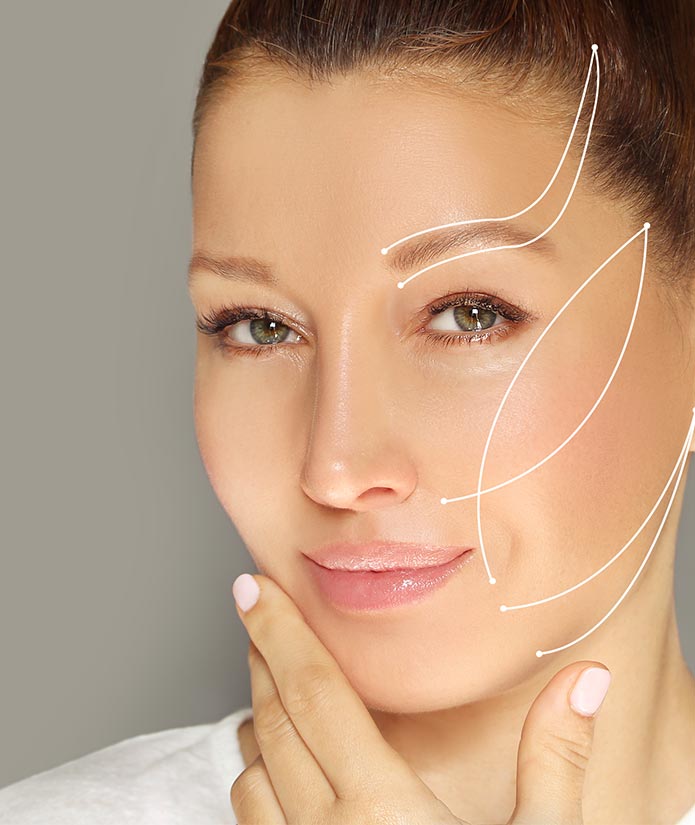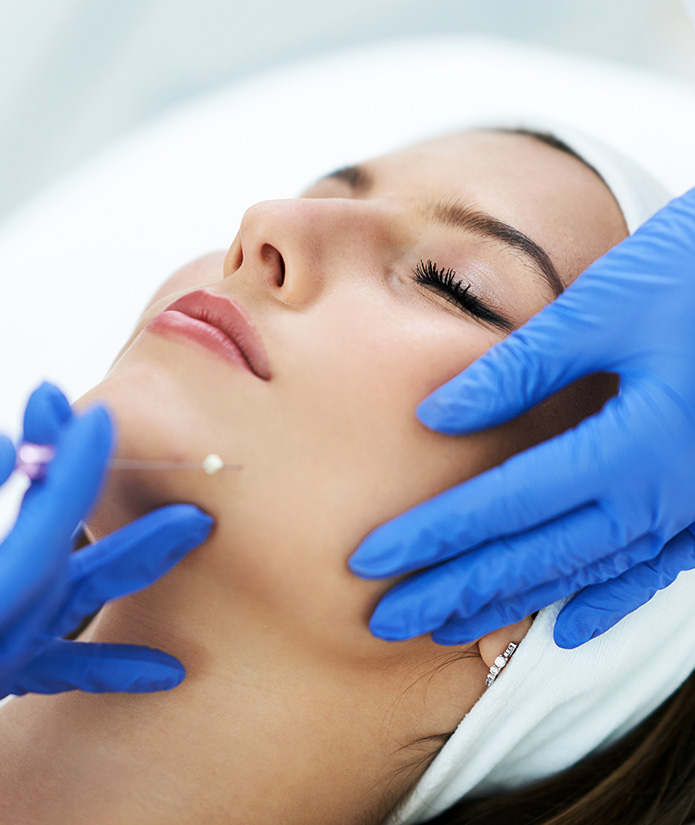 Lifting:
The lifting effect is immediate and discreet as it is the result of compressing the tissue and elevating the skin at the time of implanting the suture. After inserting the suture, your doctor applies slight pressure on the treated area. In this way, the doctor reshapes the surface of the skin and makes it visibly smoother.
Regenerating:
The regenerating effect is gradual: the composition of the threads initiate a healing response that improves the skin's overall quality. By resorbing the suture, the threads act on the deeper layers of the skin and stimulates the body so that it produces its own collagen, elastin and hyaluronic acid. This action, which continues over time, helps increase the volume of saggy areas and restores shape to the face.
Common areas treated:
Facial contours
Eyebrow lift
Lower jaw and jowls
Neck sagging
Nasolabial folds
Lip and mouth contours
Nose augmentation (non-surgical rhinoplasty)
Ear reshaping (non-surgical otoplasty)
Body procedures include: breast lift, tummy tuck, buttock lift, lifting of inner surface of the arms and lifting of the inner thighs.
Frequently asked questions
Fat and tissue in the face naturally drops during the ageing process, causing ptosis (drooping) and folding of the skin. Thread lifting works by inserting a fine and resorbable suspension suture into the fat layer of the skin; here the suture and cones structure repositions fat and tissues to elevate the skin and provide definition. The procedure results in a natural and rejuvenated look, giving a more fresh and youthful appearance.
The procedure itself takes between 20-60 minutes. After a small local anaesthetic, your doctor inserts the suture under the skin to a depth of about five millimetres. No incision is required, as the suture is inserted using a fine needle.
Once the suture has been applied, the doctor performs slight compression of the tissue to reshape it by hand and to obtain the desired lifting effect. The non-inserted ends of the suture are cut off. One or more sutures may be applied, depending on the patient and treated area. The threads leave no visible scars and the healing is generally very quick. The effects can last up to two years.
There are a variety of threads available and each has certain benefits and indications. The exact number and type of thread used will depend on the treatment indication, the desired outcome and the client's budget. At Aesthetic Options, our clients have access to the leading products used for thread lifting aesthetic procedures including PDO, PCL, Silhouette Soft and Aptos threads.
Please see the links to the Aptos and Silhouette Soft for further information on these specific treatments:
https://silhouette-soft.com/
https://www.aptos.global/archive-category/3
What are the potential side-effects?
Threads can cause a minimal inflammatory reaction, due to the insertion of a foreign body into the skin. This is a well-known reaction and common to all minimally invasive aesthetic treatments. In some cases, patients can experience minor pain, swelling and bruising. Subtle asymmetry and puckering of the skin may also occur but is temporary and will usually resolve within a few days.
Who are the best candidates for thread lifting?
This procedure is ideal for patients aged 30-55 with mild facial sagging and those not wanting more invasive surgical treatments. It is important to understand that the procedure does not replace the need for a classical surgical facelift in some patients with more severe aging.
Thread lifting is a tailor-made treatment, so it will be adapted to your needs and preferences and can be complemented with other aesthetic treatments.
Often times your doctor would recommend thread lifting used in conjunction with a number of other procedures or as part of a treatment plan. These may include muscle relaxing injections, dermal fillers, fat dissolving injections, chemical peels and redermalisation to enhance an overall rejuvenating effect.
Have more questions or want to book a consultation?
" The best place to go. "
" Very good place to go to. Service is great, and Ruan is very professional. Will definitely be going back there. "
" Professional and experienced team providing best advice and treatments for your particular needs whether it be facial or body aesthetics. "
" Love love love this beautiful practice!
I have been getting laser hair removal treatments from Christelle and have been seeing amazing results! She is very professional and great at what she does. Quick and easy procedure that's practically pain-free.
I have also gotten Botox before from Dr Leon Ehlers for my gummy smile which showed amazing results and I was super happy with it!
Highly recommended! The friendly staff and beautiful view is an added bonus 🙂 "
" Where do I begin to thank Dr. Ehlers and his wonderful team. Impeccable customer care and facilities. I am extremely happy with my results. "
Michelle Cayleigh Roberts
" I'm incredibly impressed by this practice. I was treated by Dr Ehlers who was professional, had an excellent bedside manner and focused on my exact concerns. After my botox treatments my deep frown lines, that previously made me look angry, have completely disappeared. "
" A truly revolutionary one stop shop for anything health and aesthetic related!
I asked if they could help & #THEYSAIDYES
The team is friendly, warm, inviting and unbelievably forth coming! a team that now feels like family. For years i struggled with sinuses, only for the team to resolve this through blood tests and eliminating the food offenders, treating the cause! "