Carboxy Therapy has been used medical aesthetics for decades and involves the use of a specialised device to inject small volumes of the medical grade carbon dioxide gas (CO2) into the epidermis of scalp. Carboxy Therapy improves circulation at the injection site as red blood cells to rush to the area. When the blood cells reach the location, they pick up the carbon dioxide and release oxygen, therefore increasing circulation to the tissues. The vasodilating effect of Carboxy Therapy results in increased nutrients to the scalp and hair follicle.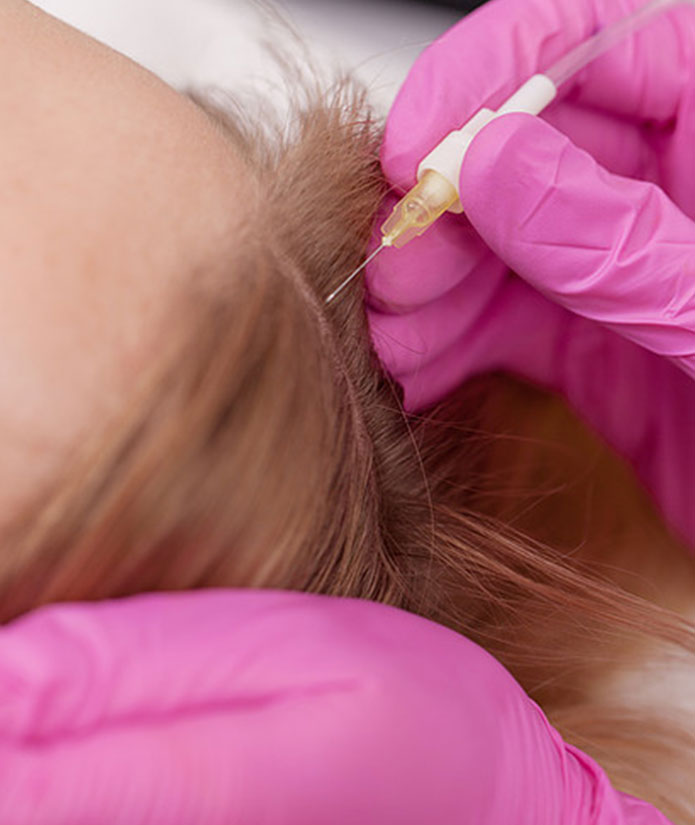 Frequently asked questions
This procedure is virtually painless and is performed very quickly. The treatment has no downtime and a single session can take between 15 minutes and an hour. You can return to normal routines immediately, aside from swimming and bathing in a tub for 24 hours after treatment 
How many sessions do I need to see results?
A series of treatments are required for best results. More frequent treatments will be necessary to establish clinical results followed by maintenance treatments.
Initially, one to two treatments are required weekly for the first 4-6 weeks. Followed by maintenance treatments of 1-2 sessions every 1-2 weeks, depending on the severity of the condition.
For patients participating in surgical hair transplants, it may be beneficial to perform Carboxy Therapy once a week, starting a week before the procedure and reinitiating a week after the hair transplant procedure to improve graft function and healing.
Have more questions or want to book a consultation?
" The best place to go. "
" Very good place to go to. Service is great, and Ruan is very professional. Will definitely be going back there. "
" Professional and experienced team providing best advice and treatments for your particular needs whether it be facial or body aesthetics. "
" Love love love this beautiful practice!
I have been getting laser hair removal treatments from Christelle and have been seeing amazing results! She is very professional and great at what she does. Quick and easy procedure that's practically pain-free.
I have also gotten Botox before from Dr Leon Ehlers for my gummy smile which showed amazing results and I was super happy with it!
Highly recommended! The friendly staff and beautiful view is an added bonus 🙂 "
" Where do I begin to thank Dr. Ehlers and his wonderful team. Impeccable customer care and facilities. I am extremely happy with my results. "
Michelle Cayleigh Roberts
" I'm incredibly impressed by this practice. I was treated by Dr Ehlers who was professional, had an excellent bedside manner and focused on my exact concerns. After my botox treatments my deep frown lines, that previously made me look angry, have completely disappeared. "
" A truly revolutionary one stop shop for anything health and aesthetic related!
I asked if they could help & #THEYSAIDYES
The team is friendly, warm, inviting and unbelievably forth coming! a team that now feels like family. For years i struggled with sinuses, only for the team to resolve this through blood tests and eliminating the food offenders, treating the cause! "