Low-Level Laser Therapy (LLLT) utilises cool light energy to stimulate hair growth and reduce hair loss. LLLT is based on the scientific principle of photo-biotherapy, whereby the low-dose laser energy is absorbed by cells, which stimulates cell metabolism and protein synthesis. The resultant increase in energy production invigorates circulation around the hair follicles, preventing the follicles from decreasing in size and encouraging them to grow hair.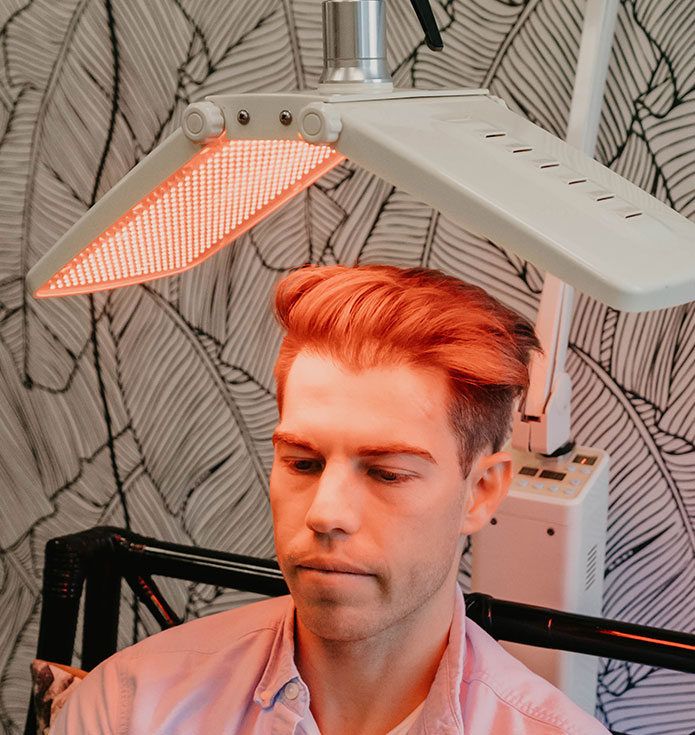 Frequently asked questions
Hair Growth Laser Therapy is an office treatment that takes a maximum of 40 minutes while seated comfortably underneath the LLLT device. There is no heating effect and clients are afforded the opportunity to entertain themselves or catch up with important work.
Recent studies have shown that up to 80% of clients who underwent Hair Growth Laser Therapy experienced hair regrowth within four months, using a combination of LLLT, an FDA-approved hair regrowth pharmaceutical solutions and a proven scalp and follicle hair loss treatment program.
Is Hair Growth Laser suitable for me?
Low-Laser Light Therapy works best in the early stages of hair loss, and in conjunction with other treatments. If you feel as though your hair is thinning, we recommend you visit us as soon as possible for a Hair Consultation. The sooner you begin treatment, the more effective it will be.
What are the benefits of Hair Growth Laser?
Non-invasive
Painless
Affordable
No side-effects
Increases hair strength
Alternative option to traditional medical and surgical hair restoration solutions
Have more questions or want to book a consultation?
" The best place to go. "
" Very good place to go to. Service is great, and Ruan is very professional. Will definitely be going back there. "
" Professional and experienced team providing best advice and treatments for your particular needs whether it be facial or body aesthetics. "
" Love love love this beautiful practice!
I have been getting laser hair removal treatments from Christelle and have been seeing amazing results! She is very professional and great at what she does. Quick and easy procedure that's practically pain-free.
I have also gotten Botox before from Dr Leon Ehlers for my gummy smile which showed amazing results and I was super happy with it!
Highly recommended! The friendly staff and beautiful view is an added bonus 🙂 "
" Where do I begin to thank Dr. Ehlers and his wonderful team. Impeccable customer care and facilities. I am extremely happy with my results. "
Michelle Cayleigh Roberts
" I'm incredibly impressed by this practice. I was treated by Dr Ehlers who was professional, had an excellent bedside manner and focused on my exact concerns. After my botox treatments my deep frown lines, that previously made me look angry, have completely disappeared. "
" A truly revolutionary one stop shop for anything health and aesthetic related!
I asked if they could help & #THEYSAIDYES
The team is friendly, warm, inviting and unbelievably forth coming! a team that now feels like family. For years i struggled with sinuses, only for the team to resolve this through blood tests and eliminating the food offenders, treating the cause! "