Laser hair removal is one of the world's most popular aesthetic procedures. At Aesthetic Options, we use Alma Laser's Soprano ICE, a clinically proven, award winning device that provides a safe, efficient and painless method for permanent hair reduction in both men and women of all skin types, including ethnic skin.
Laser Hair Removal At A Glance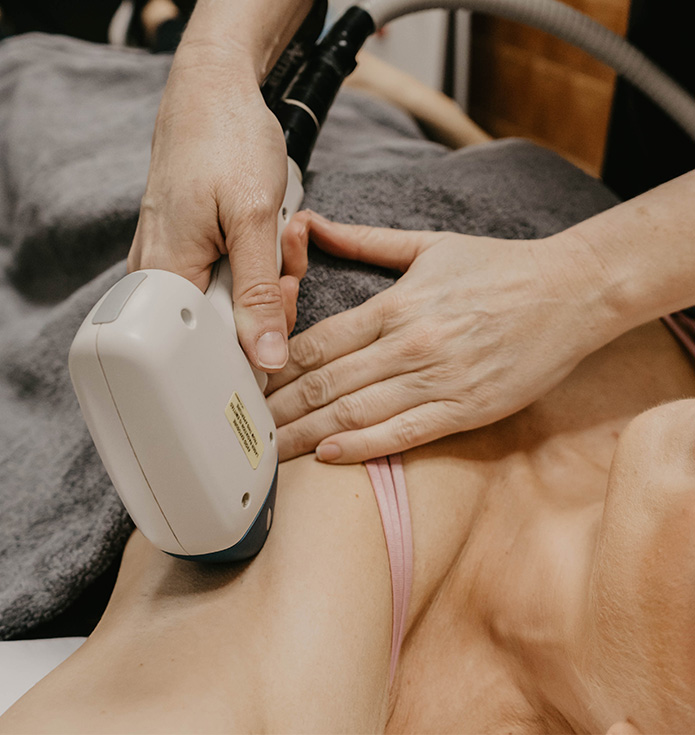 Frequently asked questions
How does Laser Hair Removal work?
The procedure involves use of broad-spectrum laser light, which passes through the skin and gets absorbed by the melanin in the hair. This light is specifically designed not to damage the surrounding skin but to selectively target the hair. The heat generated by the light targets only the hair follicle and disables it, therefore eliminating the hair and its potential re-growth to achieve the desired effect.
Who is the ideal candidate for Laser Hair Removal?
Anyone with excessive body hair, who is tired of shaving, waxing or having hair in the wrong place is most likely a good candidate for laser hair removal, which includes teenagers and elders. Traditionally, permanent hair reduction has been difficult to achieve on darker skin types, however the Soprano ICE, we can offer this treatment for all skin types and all hair colors.
How many treatments do I need to see results?
Clients will typically need 4-6 treatments (in some cases up to 10) every 4 to 8 weeks depending on the area of concern. Facial, chest and back hair in men is often denser and usually require more treatments. Very light and fine hairs are more stubborn and might need additional treatments to ensure permanent cessation of growth.
During your consultation with your doctor, it's important to mention any medical conditions. Certain conditions, such as hirsutism (excessive hair growth seen in Polycystic Ovarian Syndrome) or hormonal changes might need further treatments.
A laser will only work on the hair follicle in its active growth phase. That particular hair will be permanently destroyed during the session. However, hair that might have been dormant during previous laser hair removal sessions can re-enter a growth phase. This is why multiple treatments are needed until all the hair in a growth phase is removed.
Which body areas can be treated?
Which body areas can be treated?
Laser hair removal can be done on just about any area of the body where there is a need for unwanted hair to be removed.

Commonly treated areas:


face
neck
arms and hands
armpits
chest and back
tummy area
bikini line and intimate
areas
legs and toes
What are the benefits and advantages of Laser Hair Removal?
Safe for all skin types, including Asian and African skin
Quick, lunchtime procedure
No downtime
Painless, with no need for any form of anaesthetic
Successfully treats all body and face areas
Can treat all hair diameters and depths
Long-lasting results
Affordable
Have more questions or want to book a consultation?
" The best place to go. "
" Very good place to go to. Service is great, and Ruan is very professional. Will definitely be going back there. "
" Professional and experienced team providing best advice and treatments for your particular needs whether it be facial or body aesthetics. "
" Love love love this beautiful practice!
I have been getting laser hair removal treatments from Christelle and have been seeing amazing results! She is very professional and great at what she does. Quick and easy procedure that's practically pain-free.
I have also gotten Botox before from Dr Leon Ehlers for my gummy smile which showed amazing results and I was super happy with it!
Highly recommended! The friendly staff and beautiful view is an added bonus 🙂 "
" Where do I begin to thank Dr. Ehlers and his wonderful team. Impeccable customer care and facilities. I am extremely happy with my results. "
Michelle Cayleigh Roberts
" I'm incredibly impressed by this practice. I was treated by Dr Ehlers who was professional, had an excellent bedside manner and focused on my exact concerns. After my botox treatments my deep frown lines, that previously made me look angry, have completely disappeared. "
" A truly revolutionary one stop shop for anything health and aesthetic related!
I asked if they could help & #THEYSAIDYES
The team is friendly, warm, inviting and unbelievably forth coming! a team that now feels like family. For years i struggled with sinuses, only for the team to resolve this through blood tests and eliminating the food offenders, treating the cause! "