While used mainly as an anti-aging skin treatment and to improve the skin's quality, Microneedling may also be used as a treatment for hair loss. Aside from collagen production in the skin, which is the underlying process for the treatment of acne scars, it's thought that microneedling can also help induce stem cells in the hair follicles that may lead to hair growth.
At Aesthetic Options we use the latest skin needling technology – Dermapen Medical's 4th Generation Medical Microneedling System. Dermapen Medical is an advanced automated skin needling device that is widely recognised as the Gold Standard in microneedling technology in the aesthetic market. The Dermapen causes minimally invasive, precise, micro-injuries of the epidermis and dermis of the scalp, without causing open wounds or ablative damage to the hair follicle. The micro-injuries created trigger the body's wound healing cascade, which leads to regenerative processes at the hair follicle and stimulates blood flow to the area.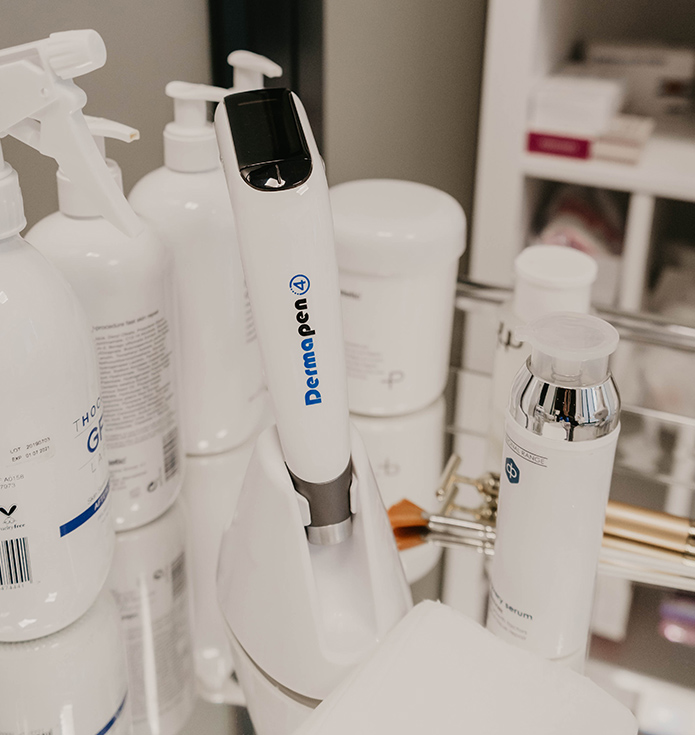 Frequently asked questions
This is a quick, in-office procedure that has minimal discomfort and no down time. The actual procedure time can vary based on the size of the treatment area, but it generally takes less than 10 minutes.
Our hair restoration clinic uses a premium quality, sterile hair loss solution when performing microneedling. The solution is based on natural and highly potent active ingredients that stimulates the hair follicles and the surrounding tissue. The microchannels created by microneedling allows the nutrients and stimulating ingredients to be actively absorbed, revitalizing and strengthening the hair.
Microneedling for hair restoration is an affordable option in comparison to PRP Therapy that can help improve your hair loss condition.
Have more questions or want to book a consultation?
" The best place to go. "
" Very good place to go to. Service is great, and Ruan is very professional. Will definitely be going back there. "
" Professional and experienced team providing best advice and treatments for your particular needs whether it be facial or body aesthetics. "
" Love love love this beautiful practice!
I have been getting laser hair removal treatments from Christelle and have been seeing amazing results! She is very professional and great at what she does. Quick and easy procedure that's practically pain-free.
I have also gotten Botox before from Dr Leon Ehlers for my gummy smile which showed amazing results and I was super happy with it!
Highly recommended! The friendly staff and beautiful view is an added bonus 🙂 "
" Where do I begin to thank Dr. Ehlers and his wonderful team. Impeccable customer care and facilities. I am extremely happy with my results. "
Michelle Cayleigh Roberts
" I'm incredibly impressed by this practice. I was treated by Dr Ehlers who was professional, had an excellent bedside manner and focused on my exact concerns. After my botox treatments my deep frown lines, that previously made me look angry, have completely disappeared. "
" A truly revolutionary one stop shop for anything health and aesthetic related!
I asked if they could help & #THEYSAIDYES
The team is friendly, warm, inviting and unbelievably forth coming! a team that now feels like family. For years i struggled with sinuses, only for the team to resolve this through blood tests and eliminating the food offenders, treating the cause! "