Dr CYJ Hair Filler™ is a CE-certified product based on a patented formula of 7 peptides and hyaluronic acid, for the revitalisation of hair and scalp. It is injected directly to the area of concern and does not rely on the scalp's needs for absorption in order to be effective. Men, woman and all hair ethnicities suffering from hair loss or thinning may benefit from hair filler.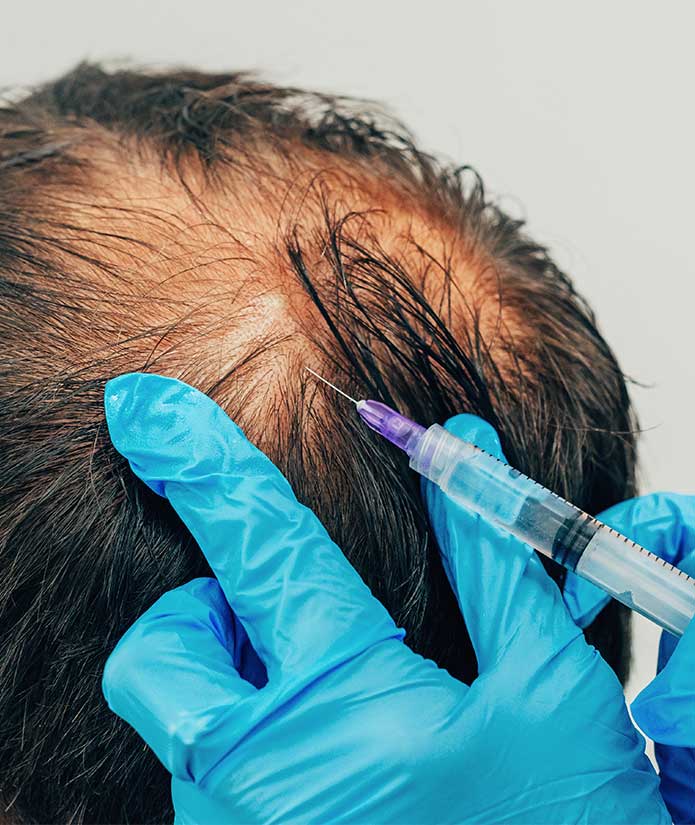 Frequently asked questions
How does Hair filler work?
Causes sustained release of the peptides for two weeks thus improve the penetration of the active ingredients
Promotes blood circulation to the scalp and hair follicles
Revitalises hair follicles and improves hair stem cell proliferation
Increases the size of the follicles inducing hair growth
Prevents further hair loss
Maintains hair growth
How many sessions do I need to see results?
Each person and hair problem is different and therefore responds differently to a treatment. Your doctor will be able to advise you on this. Clinical studies done shows that good results are obtained with the following treatment protocol:
Standard Hair Filler Treatment: 1 session per 2 weeks, for 8 weeks (total of 4 sessions)
Intensive Hair Filler Treatment: 1 session per 2 weeks, for 8 weeks (total 4 sessions), then 1 monthly maintenance session for 3-6 months.
Have more questions or want to book a consultation?
" The best place to go. "
" Very good place to go to. Service is great, and Ruan is very professional. Will definitely be going back there. "
" Professional and experienced team providing best advice and treatments for your particular needs whether it be facial or body aesthetics. "
" Love love love this beautiful practice!
I have been getting laser hair removal treatments from Christelle and have been seeing amazing results! She is very professional and great at what she does. Quick and easy procedure that's practically pain-free.
I have also gotten Botox before from Dr Leon Ehlers for my gummy smile which showed amazing results and I was super happy with it!
Highly recommended! The friendly staff and beautiful view is an added bonus 🙂 "
" Where do I begin to thank Dr. Ehlers and his wonderful team. Impeccable customer care and facilities. I am extremely happy with my results. "
Michelle Cayleigh Roberts
" I'm incredibly impressed by this practice. I was treated by Dr Ehlers who was professional, had an excellent bedside manner and focused on my exact concerns. After my botox treatments my deep frown lines, that previously made me look angry, have completely disappeared. "
" A truly revolutionary one stop shop for anything health and aesthetic related!
I asked if they could help & #THEYSAIDYES
The team is friendly, warm, inviting and unbelievably forth coming! a team that now feels like family. For years i struggled with sinuses, only for the team to resolve this through blood tests and eliminating the food offenders, treating the cause! "