Robotic Assisted Hair Transplant
The damage caused by hair loss goes beyond the cosmetic. The real cost is psychological, an injury to the identity. We believe that nobody should have to lose themselves just because they lose their hair.
Aesthetic Options has teamed up with Scalpture Robotics, to provide our clients with the only comprehensive intelligent solution for hair restoration in South Africa. We proudly bring you Surgical Hair Restoration – specifically, the FUE (follicular unit extraction) method of hair transplantation. Scalpture Robotics utilises the latest technological advancement in aesthetic medicine, the ARTAS iX™ Robotic Hair Restoration System. Combining state-of-the-art robotic and artificial intelligence technology, it delivers precise and repeatable hair follicle harvesting with and implantation, thus reducing the risk of human error.
The ARTAS iX™ Robotic Hair Transplant System is unlike other forms of hair transplant methods as the greater part of the hair transplant procedure is completely automised. It is a clinically proven, permanent, solution that provides natural results without stitches, staples, linear scarring and avoids damage to healthy existing hair.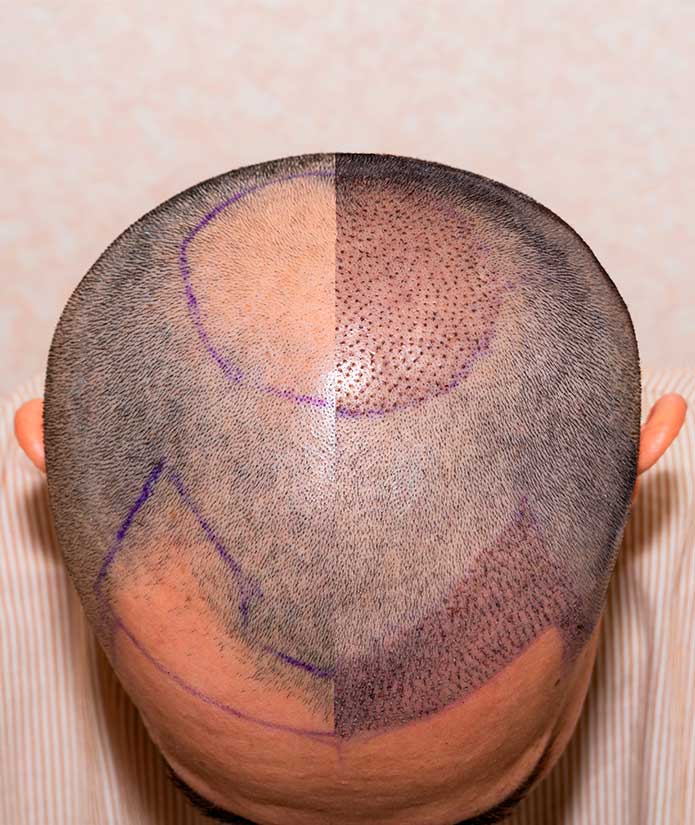 Frequently asked questions
Depending on the extent of the hair loss and grafts required for transplant, the procedure will take approximately 5-10 hours to complete.
How much down time will I have?
The donor site and recipient site will take 7-14 days to heal. We recommend that clients stay indoors and out of the public eye for first 7 days following a procedure.
Exercise routines can be resumed 14 days after the procedure.
Upon completion of the hair transplant procedure, your doctor and hair transplants technicians will discuss your post-procedure routine with you to ensure your transplanted hair gets all the care it needs to optimise results.
What are the benefits of Robotic Hair Transplantation?
A personalised hairline for every patient with 3D pre-operative planning.
A permanent solution with a natural appearance in the donor and implantation areas.
Intelligent analysis and selection of grafts from the donor area with no risk of linear scarring.
Accurate identification of optimal recipient sites and simultaneous implanting of each graft.
Shorter procedures, less pain, and minimal recovery downtime.
Have more questions or want to book a consultation?
" The best place to go. "
" Very good place to go to. Service is great, and Ruan is very professional. Will definitely be going back there. "
" Professional and experienced team providing best advice and treatments for your particular needs whether it be facial or body aesthetics. "
" Love love love this beautiful practice!
I have been getting laser hair removal treatments from Christelle and have been seeing amazing results! She is very professional and great at what she does. Quick and easy procedure that's practically pain-free.
I have also gotten Botox before from Dr Leon Ehlers for my gummy smile which showed amazing results and I was super happy with it!
Highly recommended! The friendly staff and beautiful view is an added bonus 🙂 "
" Where do I begin to thank Dr. Ehlers and his wonderful team. Impeccable customer care and facilities. I am extremely happy with my results. "
Michelle Cayleigh Roberts
" I'm incredibly impressed by this practice. I was treated by Dr Ehlers who was professional, had an excellent bedside manner and focused on my exact concerns. After my botox treatments my deep frown lines, that previously made me look angry, have completely disappeared. "
" A truly revolutionary one stop shop for anything health and aesthetic related!
I asked if they could help & #THEYSAIDYES
The team is friendly, warm, inviting and unbelievably forth coming! a team that now feels like family. For years i struggled with sinuses, only for the team to resolve this through blood tests and eliminating the food offenders, treating the cause! "