Bioelectrical Stimulation
Male sexuality is a remarkable phenomenon that depends on multiple factors to create a cascades of events to produce arousal. It involves the brain, hormones, nerves, muscles and the vascular system (blood vessels). If any of these are affected, it can inhibit normal sexual function and lead to erectile dysfunction.
Erectile dysfunction has the potential to destroy a man's confidence, cause irreparable damage to healthy relationships and result in tremendous stress and anxiety. Up until now, options for treating erectile dysfunction included either taking medication such as Viagra and Cialis, or more invasive procedures including penile implants and surgery.
What causes erectile dysfunction
Age
Tobacco, drug and alcohol use
Medical conditions
Medications
Obesity and being overweight
Injuries
Psychological stress
Low-Intensity Extracorporeal Shockwave Therapy, also known as Bioelectrical Stimulation, is a revolutionary new, natural and non-invasive procedure that can effectively help treat erectile dysfunction.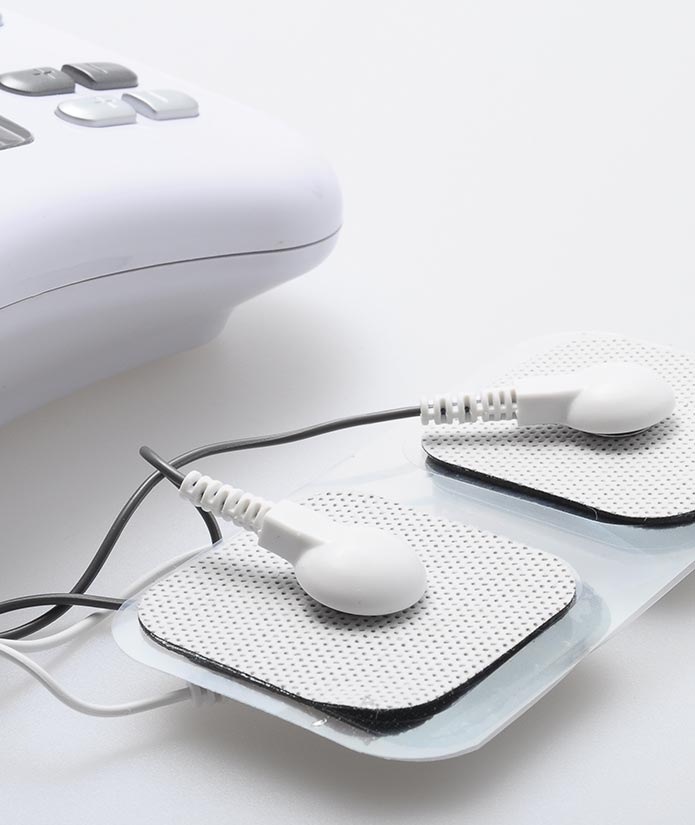 Frequently asked questions
How does Bioelectrical Stimulation work?
Plaque formation can occur in blood vessels in the penis, limiting blood flow and ultimately affecting the quality of erections. Bioelectrical stimulation uses low-intensity sound waves to break up plaque and stimulate the growth of new blood vessels, resulting in increased blood flow and enhanced sensitivity in the penis.
Bioelectrical Stimulation is a quick and safe outpatient procedure performed at our clinic.
Each session is only 50 minutes and we advise clients to have two sessions a week for a total of 4 weeks. Thereafter, clients can have sessions as needed for maintenance therapy.
We have seen remarkable results when Bioelectrical Stimulation is combined with the P-shot, a form of Platelet Rich Plasma (PRP) therapy. The P-shot induces healing and regeneration of the penile tissues and the synergistic effects produced when combined with Bioelectrical Stimulation results in improved erectile strength, performance and sensitivity.  
Have more questions or want to book a consultation?
" The best place to go. "
" Very good place to go to. Service is great, and Ruan is very professional. Will definitely be going back there. "
" Professional and experienced team providing best advice and treatments for your particular needs whether it be facial or body aesthetics. "
" Love love love this beautiful practice!
I have been getting laser hair removal treatments from Christelle and have been seeing amazing results! She is very professional and great at what she does. Quick and easy procedure that's practically pain-free.
I have also gotten Botox before from Dr Leon Ehlers for my gummy smile which showed amazing results and I was super happy with it!
Highly recommended! The friendly staff and beautiful view is an added bonus 🙂 "
" Where do I begin to thank Dr. Ehlers and his wonderful team. Impeccable customer care and facilities. I am extremely happy with my results. "
Michelle Cayleigh Roberts
" I'm incredibly impressed by this practice. I was treated by Dr Ehlers who was professional, had an excellent bedside manner and focused on my exact concerns. After my botox treatments my deep frown lines, that previously made me look angry, have completely disappeared. "
" A truly revolutionary one stop shop for anything health and aesthetic related!
I asked if they could help & #THEYSAIDYES
The team is friendly, warm, inviting and unbelievably forth coming! a team that now feels like family. For years i struggled with sinuses, only for the team to resolve this through blood tests and eliminating the food offenders, treating the cause! "