Our bodies rely on hormones for so many functions. This includes: appetite, digestion, immunity, mood and libido. When the body is not naturally making enough hormones, your health can be adversely affected. And for men, low testosterone can have far reaching consequences, especially in the bedroom.
As men age, their bodies simply don't produce enough testosterone. In addition, there are certain factors which bind up the remaining testosterone circulating in the body, effectively rendering it unavailable which may manifest as a myriad of disconcerting physical and psychological symptoms.
Low testosterone can diminish your interest in sex, affect the quality of your erections and decrease the pleasure experienced during orgasm. The psychological side-effects can wreak havoc on your ego and place significant stress on your relationships.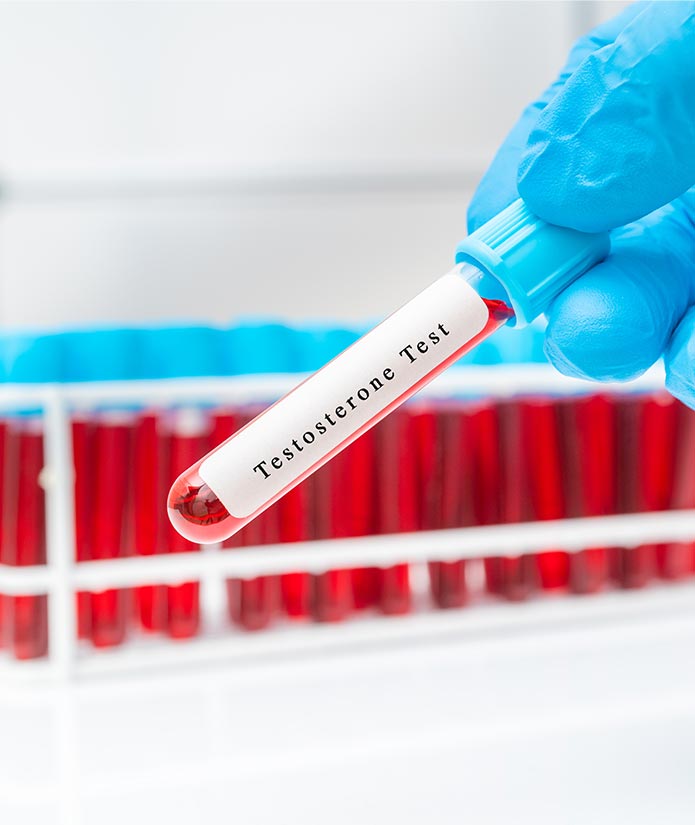 Frequently asked questions
What are the benefits of hormonal balancing?
Increased energy
Improved sex drive
Helps with erectile dysfunction
Improved moods, and decreases anxiety and depression
Improved sleep
Enhanced memory
Lowers the risk of heart disease
What can be done for hormone imbalances?
At Aesthetic Options we have a holistic approach to health and hormone balancing. When hormonal imbalances are suspected we advise on various blood tests that aid to diagnose and help guide our treatment approach.
Your symptoms, age, genetic profile and your general lifestyle will all assist in determining what the right treatment is for you – and this individualised approach is an important process when considering hormone balancing.
Treatments available include prescribed medications and hormone replacement therapy (HRT), bio-identical hormones, as well as IV therapies and natural supplements and hormone boosters.
Have more questions or want to book a consultation?
" The best place to go. "
" Very good place to go to. Service is great, and Ruan is very professional. Will definitely be going back there. "
" Professional and experienced team providing best advice and treatments for your particular needs whether it be facial or body aesthetics. "
" Love love love this beautiful practice!
I have been getting laser hair removal treatments from Christelle and have been seeing amazing results! She is very professional and great at what she does. Quick and easy procedure that's practically pain-free.
I have also gotten Botox before from Dr Leon Ehlers for my gummy smile which showed amazing results and I was super happy with it!
Highly recommended! The friendly staff and beautiful view is an added bonus 🙂 "
" Where do I begin to thank Dr. Ehlers and his wonderful team. Impeccable customer care and facilities. I am extremely happy with my results. "
Michelle Cayleigh Roberts
" I'm incredibly impressed by this practice. I was treated by Dr Ehlers who was professional, had an excellent bedside manner and focused on my exact concerns. After my botox treatments my deep frown lines, that previously made me look angry, have completely disappeared. "
" A truly revolutionary one stop shop for anything health and aesthetic related!
I asked if they could help & #THEYSAIDYES
The team is friendly, warm, inviting and unbelievably forth coming! a team that now feels like family. For years i struggled with sinuses, only for the team to resolve this through blood tests and eliminating the food offenders, treating the cause! "