Acne is a common chronic skin condition which affects virtually all individuals at least once, either through adolescence or through middle age. Acne is characterised by pimples that most often appear on the face and neck, but it is not uncommon to develop these lesions on the chest, back, shoulders and upper arms too. This occurs when the pores of the skin become clogged with excess oils, dirt and bacteria and in turn become inflamed or infected.
The effects of acne should not be underestimated. The inflammation can persist for years, cause tissue damage which results in disfigurement and permanent scarring; and have significant psycho-social consequences, including diminished self-esteem, embarrassment, social withdrawal, depression and anxiety.
What causes acne?
The cause of acne is multifactorial and usually occurs as a result of both environmental and genetic factors. Acne can present in the form of comedones (blackheads), pimples, cysts and abscesses (in severe cases). These lesions are formed on the skin when the pores in the skin are blocked, causing oil (sebum) to be trapped, along with dead skin cells and bacteria within the hair follicles. The sebaceous glands are attached to the hair follicles, and under normal circumstances, have the function of secreting sebum which travels up the hair follicle and onto the skin to lubricate it and help retain moisture. However, if there is a blockage in the hair follicle, the sebum can't get out, which turns into the perfect breeding ground for bacteria to cause inflammation.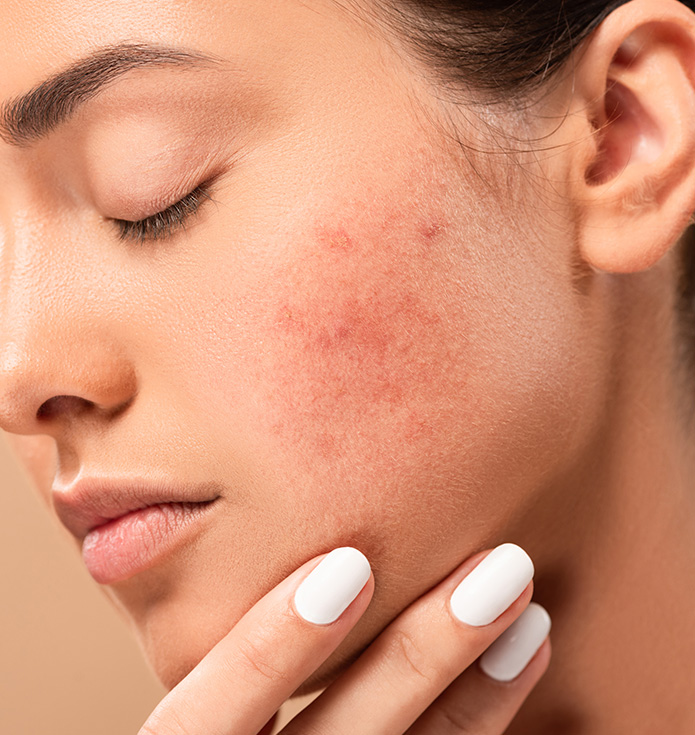 It's never a good idea to "wait" for acne to go away. Prevention, early diagnosis and treatment is fundamental if you want to avoid scarring and the possible psychological effects. Often a combination of treatments are necessary to eradicate acne, treat scarring and improve skin quality. Our treatments include:
Chemical Peels to increase cell turnover and prevent pores from clogging
Mesotherapy to introduce oxygen into the pores and stop bacterial growth
LED Light Therapy to control and eradicate bacteria
Microneedling to improve skin tone, texture, increase collagen production and treat scarring
Dermal Fillers to add volume and treat deep scars
Control and remove underlying causes and triggers through an integrative medicine approach with tailored lifestyle changes, through Genetic Testing and Nutritional Health.
Medical grade skincare products to slow down excess skin oil production
" The best place to go. "
" Very good place to go to. Service is great, and Ruan is very professional. Will definitely be going back there. "
" Professional and experienced team providing best advice and treatments for your particular needs whether it be facial or body aesthetics. "
" Love love love this beautiful practice!
I have been getting laser hair removal treatments from Christelle and have been seeing amazing results! She is very professional and great at what she does. Quick and easy procedure that's practically pain-free.
I have also gotten Botox before from Dr Leon Ehlers for my gummy smile which showed amazing results and I was super happy with it!
Highly recommended! The friendly staff and beautiful view is an added bonus 🙂 "
" Where do I begin to thank Dr. Ehlers and his wonderful team. Impeccable customer care and facilities. I am extremely happy with my results. "
Michelle Cayleigh Roberts
" I'm incredibly impressed by this practice. I was treated by Dr Ehlers who was professional, had an excellent bedside manner and focused on my exact concerns. After my botox treatments my deep frown lines, that previously made me look angry, have completely disappeared. "
" A truly revolutionary one stop shop for anything health and aesthetic related!
I asked if they could help & #THEYSAIDYES
The team is friendly, warm, inviting and unbelievably forth coming! a team that now feels like family. For years i struggled with sinuses, only for the team to resolve this through blood tests and eliminating the food offenders, treating the cause! "