Pigmentation isn't necessarily a condition but a term that describes areas of uneven tone and texture in the skin. Disorders of pigmentation present as skin that is discoloured, blotchy, or darker or lighter than normal and is a common complaint that may affect a variety of areas on the body.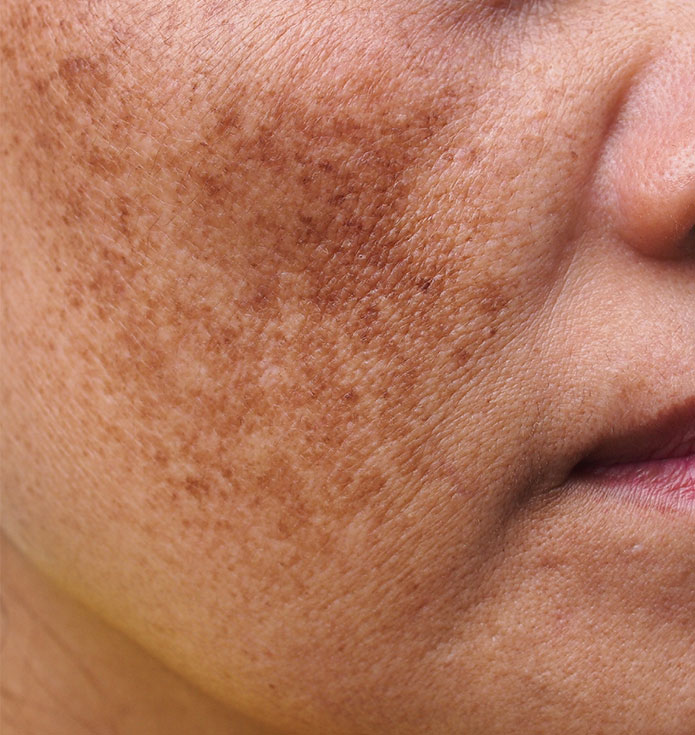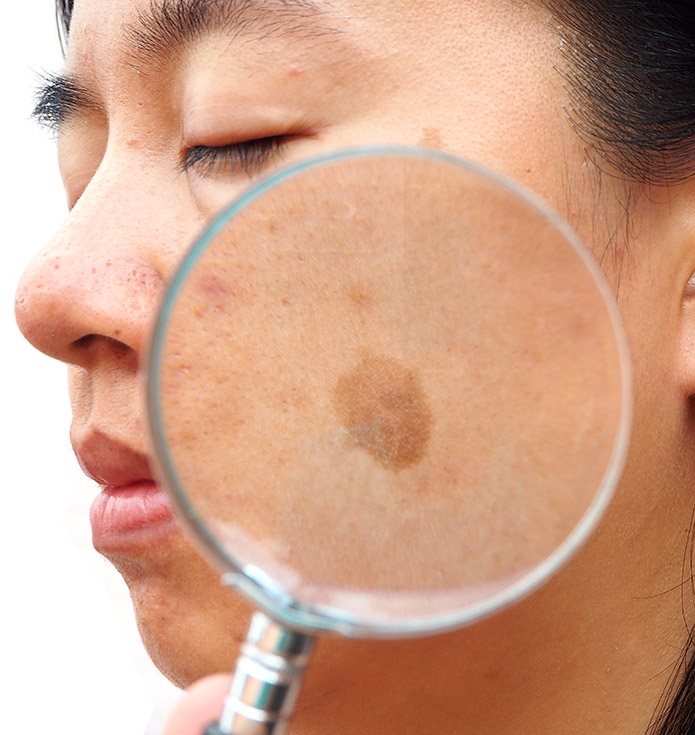 Melasma:
Melasma is a common pigmentation condition, occurring mainly in women, and is characterised by dark brown or grey patches primarily found on the face.
Melasma is a chronic and recurring disorder that significantly impacts a patient's social and professional life, and may have a noticeable impact on an individual's self-esteem. Melasma is thought to be linked to a genetic predisposition and may also be triggered by fluctuating hormones during pregnancy, the use of hormonal medication (contraceptives or hormonal replacement treatments), as well as chronic sun exposure.
At Aesthetic Options, we consider all possible causes when we develop our personalised treatment packages. This often includes lifestyle changes and aesthetic treatments combined with topical products and creams for homecare. Treatment options for Melasma include:
Cosmelan/Dermamelan to prevent further melanin formation and to lighten current pigmented areas.
Chemical peels to improve texture, tone and colour.
Detoxification support through IV Therapy with high doses of glutathione and Vitamin C.
Consuming organic food and nutritional health guidance by a Dietitian.
Minimizing UV radiation through application of medical grade skincare products.
Post-inflammatory Hyperpigmentation:
Post-inflammatory Hyperpigmentation is a temporary pigmentation condition characterised by dark spots that appear in areas where skin was injured or inflamed. Inflammation, either through damage from acne, or certain skin treatments such as lasers, can activate pigmentation. This pigmentation is caused by trauma to the skin and the skin responds by overproducing pigment in certain areas during the healing process. The lesions can be light brown to black in colour and may become darker if exposed to sunlight.
Post-inflammatory Hyperpigmentation can be a debilitating condition, especially in cases with concurrent skin conditions such as acne or acne scarring, and often requires a combination of treatments to eradicate it completely. Treatment options for Post-inflammatory Hyperpigmentation include:
Microneedling to stimulates cells to form new healthy collagen in the skin.
Cosmelan/Dermamelan to prevent further melanin formation and to lighten current pigmented areas.
Chemical peels to improve texture, tone and colour.
Mesotherapy to target specific areas of concerns by injecting individualised formulations into the skin.
Medical grade skincare products to prevent ongoing inflammation.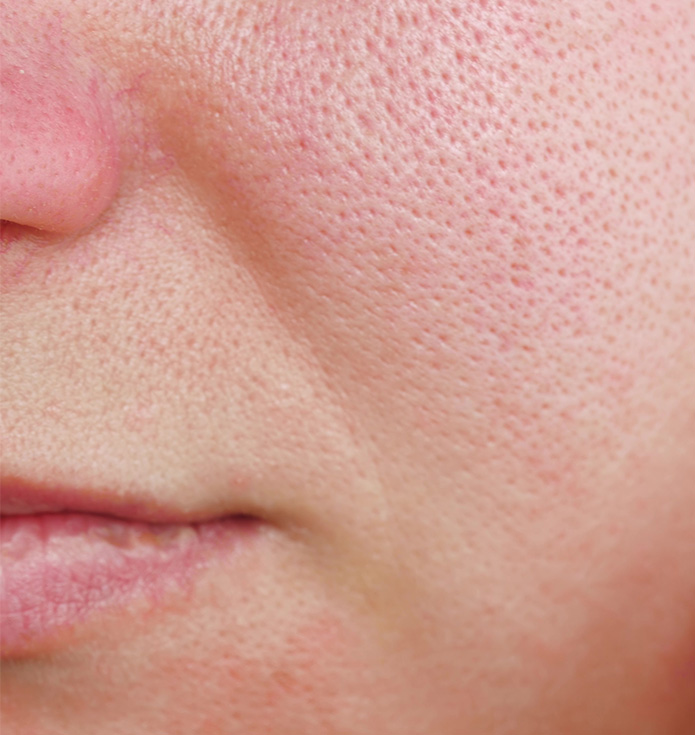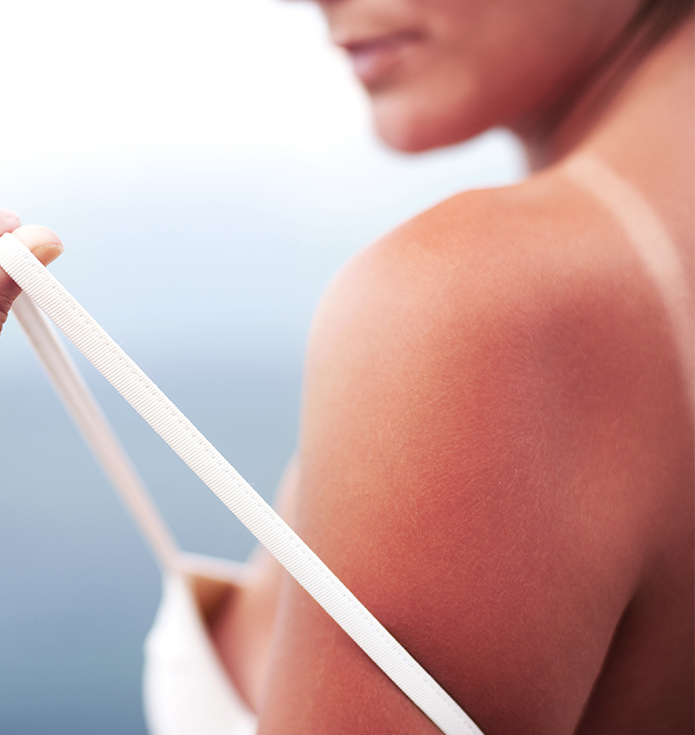 Sun-damage:
Sun and UV exposure will exacerbate and cause unwanted imperfections and blemishes on your skin, especially on the parts of the body that get the most sun exposure, such as the face, backs of the hands, shoulders and back. Sun spots or age spots, usually begins to show from the age of 40 onwards and is caused by years of accumulated sun exposure, which damages the pigment-producing cells and causes them to produce excessive pigment in certain areas. Learn more about sun damage and how to treat it here.
" The best place to go. "
" Very good place to go to. Service is great, and Ruan is very professional. Will definitely be going back there. "
" Professional and experienced team providing best advice and treatments for your particular needs whether it be facial or body aesthetics. "
" Love love love this beautiful practice!
I have been getting laser hair removal treatments from Christelle and have been seeing amazing results! She is very professional and great at what she does. Quick and easy procedure that's practically pain-free.
I have also gotten Botox before from Dr Leon Ehlers for my gummy smile which showed amazing results and I was super happy with it!
Highly recommended! The friendly staff and beautiful view is an added bonus 🙂 "
" Where do I begin to thank Dr. Ehlers and his wonderful team. Impeccable customer care and facilities. I am extremely happy with my results. "
Michelle Cayleigh Roberts
" I'm incredibly impressed by this practice. I was treated by Dr Ehlers who was professional, had an excellent bedside manner and focused on my exact concerns. After my botox treatments my deep frown lines, that previously made me look angry, have completely disappeared. "
" A truly revolutionary one stop shop for anything health and aesthetic related!
I asked if they could help & #THEYSAIDYES
The team is friendly, warm, inviting and unbelievably forth coming! a team that now feels like family. For years i struggled with sinuses, only for the team to resolve this through blood tests and eliminating the food offenders, treating the cause! "