Rosacea is an inflammatory skin disease that commonly affects adults; usually individuals with fair skin and most frequently women between the ages of 30 and 60. Rosacea is characterised by facial redness and may often present with small, red, pimple-like lesions which can be mistaken for a skin rash or acne. In fact, rosacea has been called adult acne or acne rosacea, but the disease has little to do with the pimples and blackheads that commonly afflict teenagers.
Left untreated, Rosacea tends to be progressive, which means it gets worse over time. However, in most people rosacea is cyclic – this means that the condition will flare up for a period of weeks to months and then improve for a while before the rosacea flares up again.
It must be noted that Rosacea is a chronic condition and cannot be cured; it's not life-threatening, but it can affect your appearance and lower your self-esteem. However, with regular skincare treatments and the correct home care products this condition can be managed and controlled.
What causes Rosacea?
The cause of Rosacea is unknown. We do however know which factors aggravate the condition and by avoiding these aggravators the condition can be controlled. These include: alcohol, spicy food, saunas and steam rooms, sunlight, stress, strenuous exercise, and certain medications.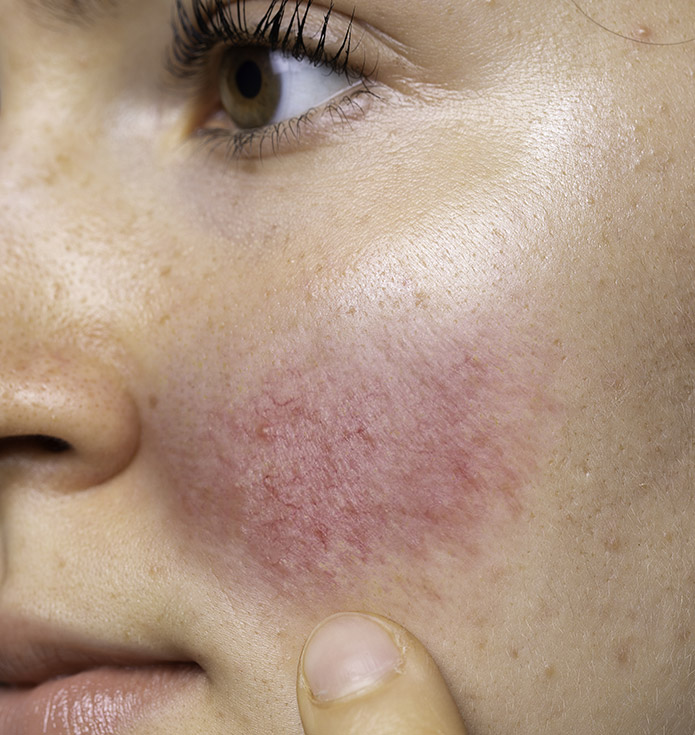 At Aesthetic Options, we offer traditional topical therapies such as Azelaic acid as well as prescription medications to treat Rosacea.
The use of medical grade skincare products along with specialised Chemical Peels may help to prevent flares and decrease the severity of the symptoms caused by Rosacea. 
Minimally invasive Microneedling with venofresh and centella asiatica are other popular treatments.
During your skin consultation, one of our doctors will assess your condition and guide you on which therapies will be suited for you. Occasionally, your doctor may advise you to seek a consultation with our Dietitian to determine your gut health. Adequate gut health is vital for the absorption of important minerals which are essential for healthy skin.
" The best place to go. "
" Very good place to go to. Service is great, and Ruan is very professional. Will definitely be going back there. "
" Professional and experienced team providing best advice and treatments for your particular needs whether it be facial or body aesthetics. "
" Love love love this beautiful practice!
I have been getting laser hair removal treatments from Christelle and have been seeing amazing results! She is very professional and great at what she does. Quick and easy procedure that's practically pain-free.
I have also gotten Botox before from Dr Leon Ehlers for my gummy smile which showed amazing results and I was super happy with it!
Highly recommended! The friendly staff and beautiful view is an added bonus 🙂 "
" Where do I begin to thank Dr. Ehlers and his wonderful team. Impeccable customer care and facilities. I am extremely happy with my results. "
Michelle Cayleigh Roberts
" I'm incredibly impressed by this practice. I was treated by Dr Ehlers who was professional, had an excellent bedside manner and focused on my exact concerns. After my botox treatments my deep frown lines, that previously made me look angry, have completely disappeared. "
" A truly revolutionary one stop shop for anything health and aesthetic related!
I asked if they could help & #THEYSAIDYES
The team is friendly, warm, inviting and unbelievably forth coming! a team that now feels like family. For years i struggled with sinuses, only for the team to resolve this through blood tests and eliminating the food offenders, treating the cause! "