Damage caused by the sun is usually done in our early years before the age of 20, however, this damage only begins to show up from the age of 35 onwards.
Without protection from the sun's rays, just a few minutes of exposure each day over the years can cause noticeable changes to the skin.
Sun damaged skin is associated with a range of cosmetic concerns. Repeated ultraviolet (UV) exposure breaks down collagen and impairs the synthesis of new collagen. Sun damaged skin also causes chronic inflammation in our skin which may manifest as:
Pigmentation problems, such as freckles and age spots
Photo ageing resulting in fine lines and wrinkles
A blotchy complexion with the development of spider veins on the face due to dilated bloods vessels
Rough and leathery skin resulting in a dry texture and loss of skin tone
Loose, sagging skin and the development volume loss in the face and under eye hollows
Skin cancer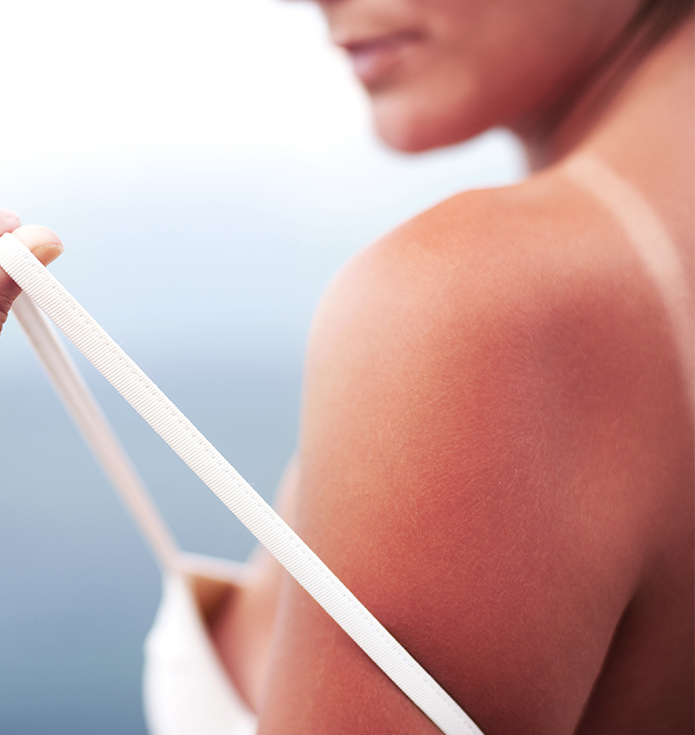 At Aesthetic Options, virtually any patient can be a candidate for improving sun damaged skin, depending on the area and their skin type. As each patient's skin is uniquely different; we will tailor a treatment program specifically for you and your circumstances. Our highly professional team led by a medical doctor will assess your concerns and will recommend an appropriate combination treatment together with long term maintenance program to ensure optimal results.
The preferred method to treat sun damaged skin today is to start with photo rejuvenation procedures early so as to prevent the deterioration of skin colour and texture as we get older. If we can treat sun damaged skin at an earlier age and stimulate the growth of new collagen, we might actually slow down the ageing process significantly. This allows us to have healthier, better-looking skin later on in life. Some of our therapies to treat sun damaged skin include:
Badly sun damaged facial skin with deep, ingrained wrinkles is a challenging condition to treat. Ingrained facial wrinkles have different forms and grades and success at combating these needs a combination of treatments that include Dermal Filler rejuvenation, resurfacing with Carboxy Therapy and injection Mesotherapy.
" The best place to go. "
" Very good place to go to. Service is great, and Ruan is very professional. Will definitely be going back there. "
" Professional and experienced team providing best advice and treatments for your particular needs whether it be facial or body aesthetics. "
" Love love love this beautiful practice!
I have been getting laser hair removal treatments from Christelle and have been seeing amazing results! She is very professional and great at what she does. Quick and easy procedure that's practically pain-free.
I have also gotten Botox before from Dr Leon Ehlers for my gummy smile which showed amazing results and I was super happy with it!
Highly recommended! The friendly staff and beautiful view is an added bonus 🙂 "
" Where do I begin to thank Dr. Ehlers and his wonderful team. Impeccable customer care and facilities. I am extremely happy with my results. "
Michelle Cayleigh Roberts
" I'm incredibly impressed by this practice. I was treated by Dr Ehlers who was professional, had an excellent bedside manner and focused on my exact concerns. After my botox treatments my deep frown lines, that previously made me look angry, have completely disappeared. "
" A truly revolutionary one stop shop for anything health and aesthetic related!
I asked if they could help & #THEYSAIDYES
The team is friendly, warm, inviting and unbelievably forth coming! a team that now feels like family. For years i struggled with sinuses, only for the team to resolve this through blood tests and eliminating the food offenders, treating the cause! "