Carboxy Therapy has been touted as the biggest beauty breakthrough since dermal fillers and is rapidly becoming known as one of the leading skin rejuvenation treatment in aesthetic medicine. Carboxy Therapy involves injecting tiny amounts of medical grade carbon dioxide (CO2) beneath the skin to break down fatty deposits and stimulate collagen production. It is a safe, minimally invasive and clinically proven method to rejuvenate, restore, and recondition the skin with the ability to treat wrinkles, laxity, cellulite and stretch marks. The treatment has no downtime and a single session can take between 15-60 minutes. In short, Carboxy Therapy is a simple and safe procedure for beautiful, younger looking skin.
Common treatment areas:
Carboxy Therapy At A Glance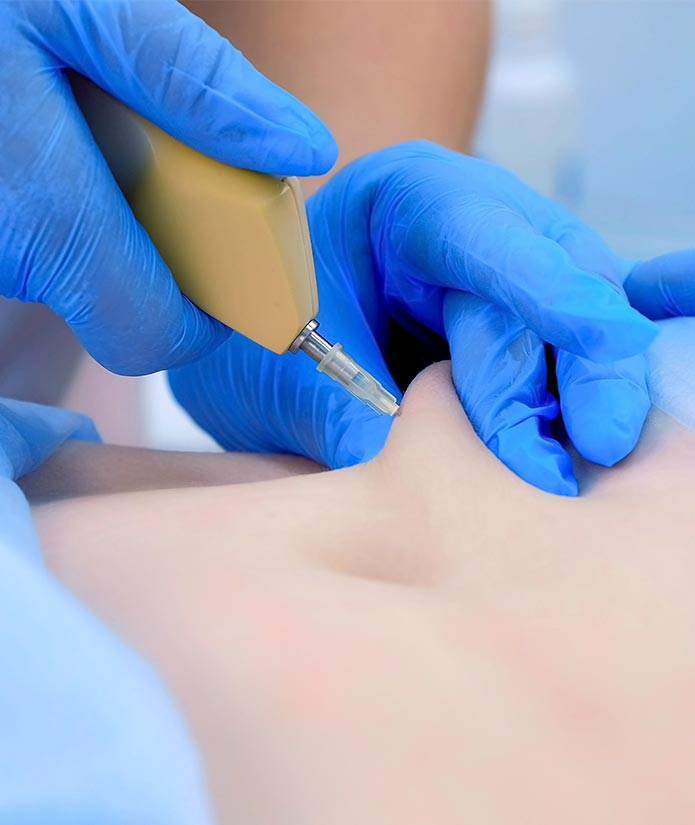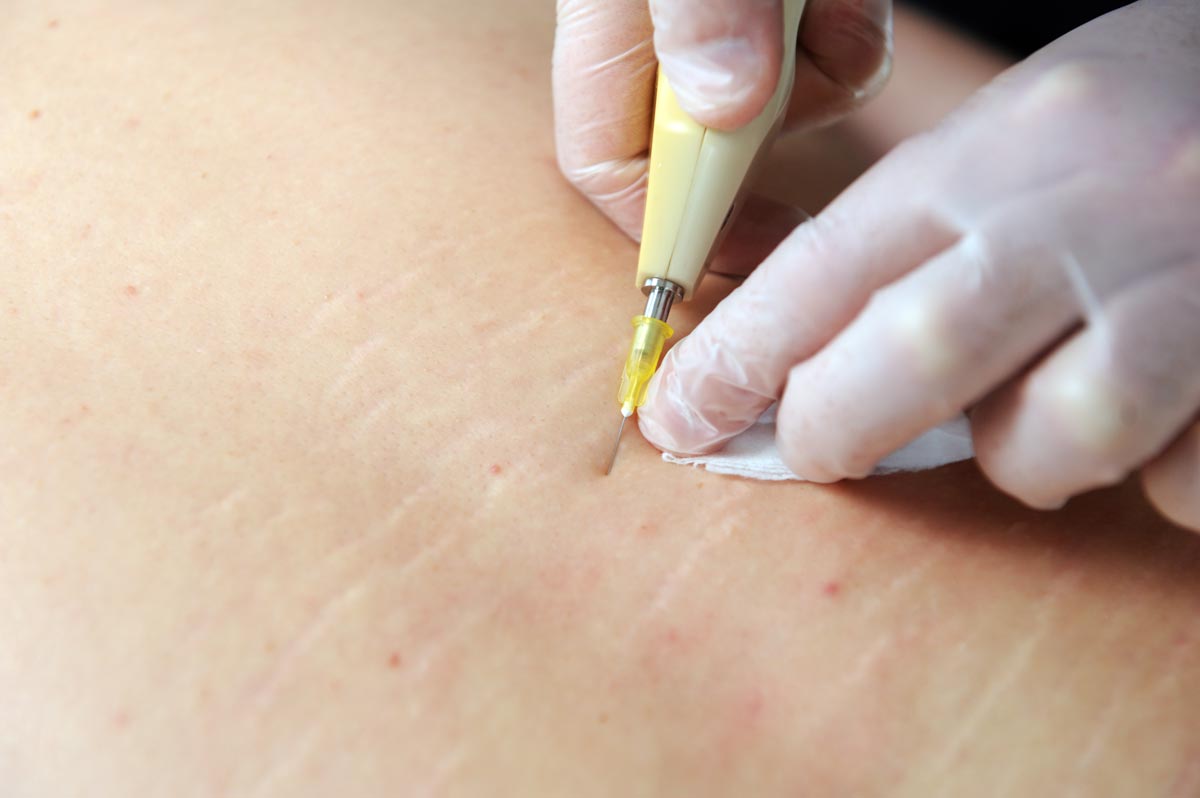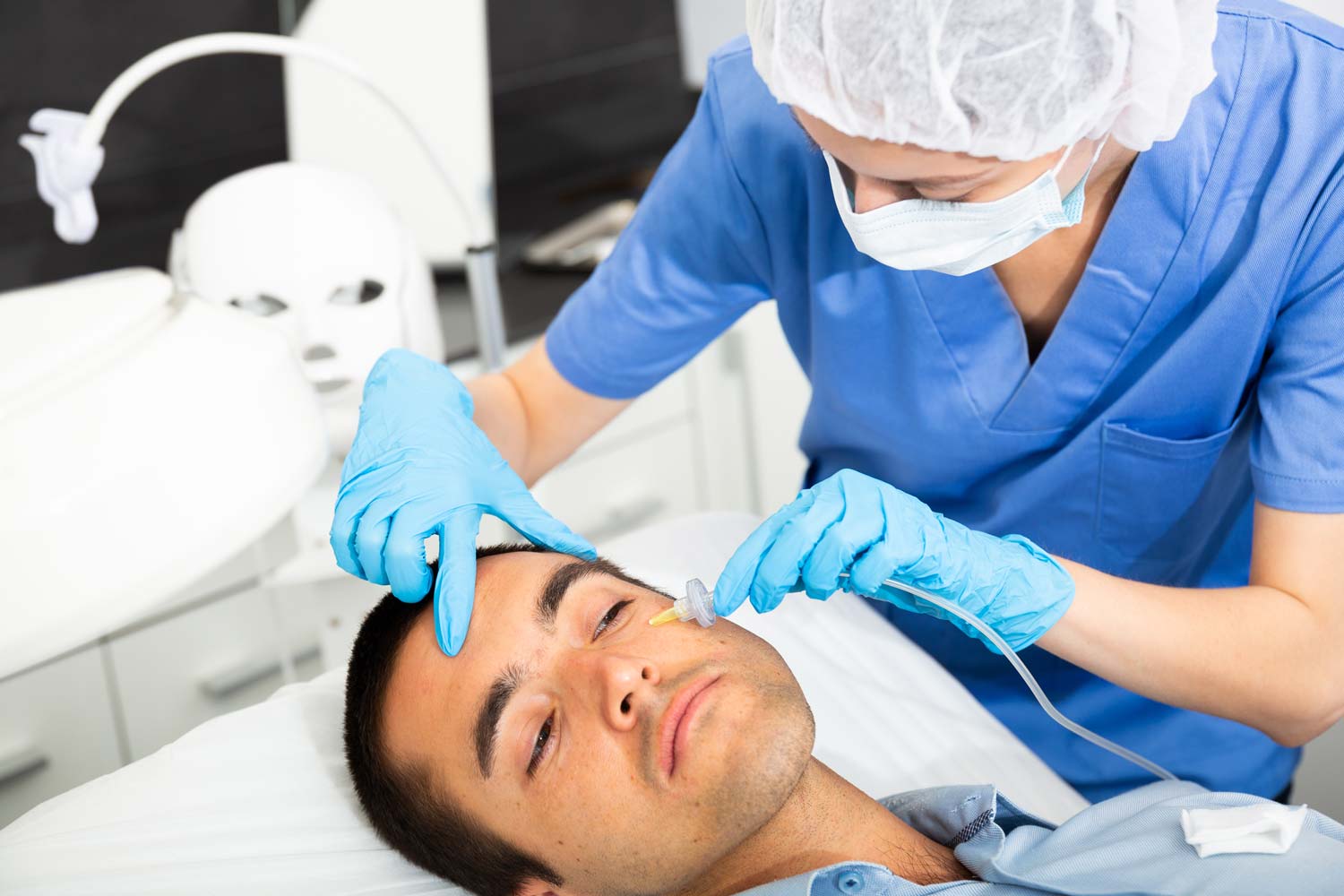 Frequently asked questions
How does Carboxy Therapy work?
Carboxy Therapy infuses concentrated CO2 just beneath the skin's surface through a series of micro-injections. The body interprets this as an oxygen deficit and responds by increasing blood flow and growth factors to the area which stimulates the production of new blood vessels. This provides a surge of oxygen and nutrients to the treated area and improves circulation, resulting in cell restoration. Increased oxygen concentration also improves skin's ability to retain water and stimulates collagen production, which improves overall hydration and assists in remodelling of the skin.
Depending on the area being treated, the sensations experienced during Carboxy Therapy may differ. During the treatment the, the expansion of the gas causes a sensation which can be likened to a dull throb or pressure, and mild discomfort may be expected to last for 2 to 4 minutes.
After a treatment the gas is totally reabsorbed within 5 minutes and the treated area will raise and turn slightly red. This is due to the increase in oxygen perfusion into the area which undergoes an inflammatory response that stimulates collagen production.
After the procedure, there is no pain, but clients may experience a warm, tingling sensation in the treated and area and possibly a crackling sensation under the skin that lasts until the gas is excreted.
The treated area should not be immersed in water for about 4 hours. The only possible side-effect is bruising that mat occur if a blood vessel is injured with the needle, however, this is quite uncommon for facial treatments but occur on the arms of legs. Clients can return to work immediately after treatment, a truly walk in, walk out procedure.
Where on the body can Carboxy Therapy be used?
Resistant fat pockets are stubborn areas of body fat that you cannot get rid of. No matter how much you exercise, eat healthily and maintain your body at a healthy weight, localised fatty pockets fat pockets will continue to be problematic.
Once introduced into the fatty deposits, Carboxy Therapy dissolves the fat cell and releases fat. Increased lymphatic drainage to the area improves the metabolism and excretion of the released fat in problem areas such as:
Love Handles
Saddle bags
Tummy Rolls
Bra Bulges
Inner Thighs
Heavy Thighs
Buttocks
Batwing arms
Double chin
How many treatments do I need to see results?
This depends upon the severity of the problem being treated and will be individualized to each client. Typically, on the body, 8 to 12 treatments of Carboxy Therapy sessions are required for cellulite and fat reduction depending on your age, body shape and cellulite type. Clients can have one or two treatments per week.
Have more questions or want to book a consultation?
" The best place to go. "
" Very good place to go to. Service is great, and Ruan is very professional. Will definitely be going back there. "
" Professional and experienced team providing best advice and treatments for your particular needs whether it be facial or body aesthetics. "
" Love love love this beautiful practice!
I have been getting laser hair removal treatments from Christelle and have been seeing amazing results! She is very professional and great at what she does. Quick and easy procedure that's practically pain-free.
I have also gotten Botox before from Dr Leon Ehlers for my gummy smile which showed amazing results and I was super happy with it!
Highly recommended! The friendly staff and beautiful view is an added bonus 🙂 "
" Where do I begin to thank Dr. Ehlers and his wonderful team. Impeccable customer care and facilities. I am extremely happy with my results. "
Michelle Cayleigh Roberts
" I'm incredibly impressed by this practice. I was treated by Dr Ehlers who was professional, had an excellent bedside manner and focused on my exact concerns. After my botox treatments my deep frown lines, that previously made me look angry, have completely disappeared. "
" A truly revolutionary one stop shop for anything health and aesthetic related!
I asked if they could help & #THEYSAIDYES
The team is friendly, warm, inviting and unbelievably forth coming! a team that now feels like family. For years i struggled with sinuses, only for the team to resolve this through blood tests and eliminating the food offenders, treating the cause! "