A chemical peel is a skin resurfacing procedure whereby a chemical agent is applied to the skin to remove the top layers revealing underlying younger, smoother skin. Chemical peels improve the texture of the skin through a process of controlled injury which promotes the growth of new skin cells and results in regenerated tissue that is smoother and firmer.
Chemical peels range in strength and are usually described according to how deep they penetrate the skin. There are three types of peels available: superficial, medium and deep. The depth of the peel depends on the pH of the chemical agent and how it is applied.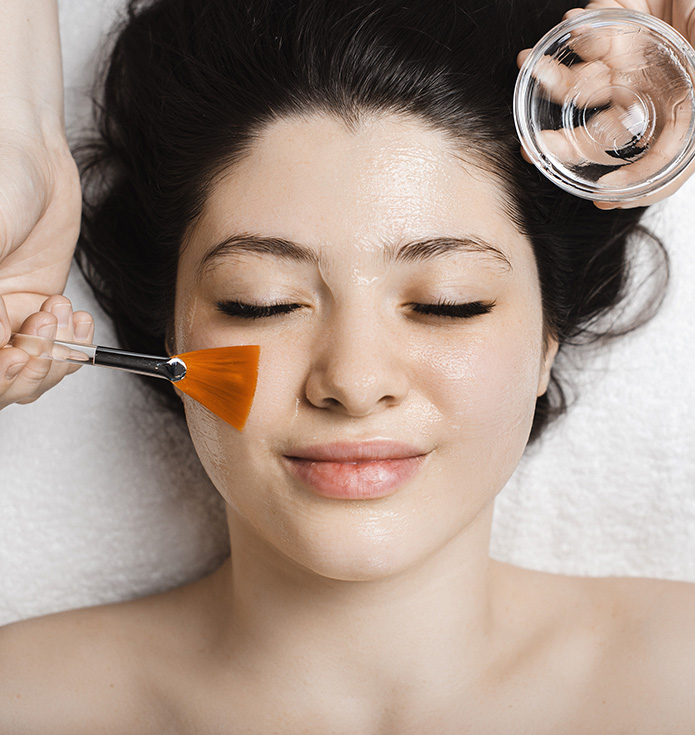 Frequently asked questions
At Aesthetic Options we stock a range of chemical peels to treat numerous skin concerns. It is so important to choose the appropriate peel for the right skin type and skin condition. It is for this reason that we prefer for our patients to book an appointment with the doctor who can advise you on a peel or protocol to follow so that you can achieve great results for your skin safely.
When you have your skin assessment, our Aesthetic Doctor or Skin Specialist will evaluate your area of concern first to determine which chemical peel procedure would be best suited for the desired effect.
Each chemical peel, regardless of the type you're having involves cleaning the skin before the procedure. Next, the specific chemical is applied to the area and left on for a recommended time, which is dependent on the type of peel you're having. During this time you may experience a burning sensation and some mild discomfort. After the specified amount of time, depending on your desired results, the chemical is neutralised and wiped clean.
For those having medium to deep peels, oral sedatives and analgesics are administered during application to relieve pain.
Certain peels require strict pre-and-post care as well as home care instructions .This not only ensures a speedy recovery but also prevents the risk of infection and changes in the skin colour. You will also be instructed to regularly apply a neutral, non-perfumed moisturising cream during your recovery.
After any chemical peel, you can expect your skin to be sensitive to sunlight for up to two weeks. An over-the-counter sunscreen with a high UV factor is recommended.
Once the rejuvenated skin starts to surface, you can expect the area to feel smoother and firmer revealing a bright, healthy glow.
After your procedure, wrinkles and uneven skin tone are less prominent, resulting in a smoother finish
Who would benefit from chemical peels?
Clients who have insecurities about blemishes, wrinkles or other imperfections on their face. The hands, neck, décolleté and other body areas are also popularly managed with peels.
We also offer a peel specifically designed for the female intimate area – Dermamelan Intimate.
Commonly treated skin concerns:
Photo-aging (sun damage)
Acne and acne scars
Superficial pigmentation
Dark spots
Uneven skin texture
Dull skin
Fine lines and wrinkles
Enlarged pores
Dark eye circles and peri-ocular aging
How do superficial, medium and deep peels differ?
Superficial:
Active Ingredients: Glycolic, Salicylic and Lactic acid
Superficial peels are quick, no-downtime procedures. These peels remove just the outer layer of skin and usually addresses skin dullness, roughness, superficial wrinkles, acne and mild hyperpigmentation.
The skin has been reported to feel slightly dry for 1 – 2 days post-treatment.
Discomfort with superficial peels is minimal. An itchy, prickly, heated sensation can be experienced while the chemical takes effect on the skin.
A superficial peel may need to be repeated monthly for maintenance.
Medium:
Active Ingredients: Trichloroacetic Acid (TCA)
Medium depth peels are slightly more invasive. They remove more skin layers and addresses uneven skin tone, acne scarring and deeper wrinkles.
Mild to medium discomfort can be experienced with medium depth peels. One can expect a hot, burning sensation and the skin may appear pink for 2 days post-treatment. Tightness and dryness will usually set in from day 2 or 3.
The skin can appear darker in certain areas but will become more even once flaking begins. The skin will also look older in appearance just before flaking occurs. Flaking will usually begin from day 3 or 4 and can continue for up to 1 week after your treatment.
TCA peels are layer dependent, which means the more layers of peel that are applied to the skin, the deeper the peel will be.
A medium peel may be repeated every six to twelve months.
Deep:
Active Ingredients: Phenol
Deep peels require downtime. A deep peel may be used if you have deep facial wrinkles, severely photo-damaged skin and severe scarring. It is the strongest chemical peel that needs careful patient selection, local anaesthetic, sedation and dedicated post-peel care.
The skin will appear red and swollen post-treatment and can continue for up to a week. The skin will feel sensitive for up to 1-week post-treatment. Peeling usually starts from day 3 or 4 and will be deep, and the skin underneath will appear pink for several weeks post-treatment. It is advisable to take a week off from work to recover from this treatment.
With deep peels one can expect severe discomfort, it is therefore recommended that the patient be sedated before having this treatment. Deep peels are also only performed by a doctor trained in advanced skincare.
Have more questions or want to book a consultation?
" The best place to go. "
" Very good place to go to. Service is great, and Ruan is very professional. Will definitely be going back there. "
" Professional and experienced team providing best advice and treatments for your particular needs whether it be facial or body aesthetics. "
" Love love love this beautiful practice!
I have been getting laser hair removal treatments from Christelle and have been seeing amazing results! She is very professional and great at what she does. Quick and easy procedure that's practically pain-free.
I have also gotten Botox before from Dr Leon Ehlers for my gummy smile which showed amazing results and I was super happy with it!
Highly recommended! The friendly staff and beautiful view is an added bonus 🙂 "
" Where do I begin to thank Dr. Ehlers and his wonderful team. Impeccable customer care and facilities. I am extremely happy with my results. "
Michelle Cayleigh Roberts
" I'm incredibly impressed by this practice. I was treated by Dr Ehlers who was professional, had an excellent bedside manner and focused on my exact concerns. After my botox treatments my deep frown lines, that previously made me look angry, have completely disappeared. "
" A truly revolutionary one stop shop for anything health and aesthetic related!
I asked if they could help & #THEYSAIDYES
The team is friendly, warm, inviting and unbelievably forth coming! a team that now feels like family. For years i struggled with sinuses, only for the team to resolve this through blood tests and eliminating the food offenders, treating the cause! "