Depigmentation – Cosmelan / Dermamelan
Skin ageing caused by chronic sun exposure, facial blemishes and pigmentation from acne breakouts, melasma from hormonal changes and general skin surface imperfections are common problems we see today.
Cosmelan and Dermamelan are considered the gold standard treatment for melasma and other pigmentation conditions worldwide.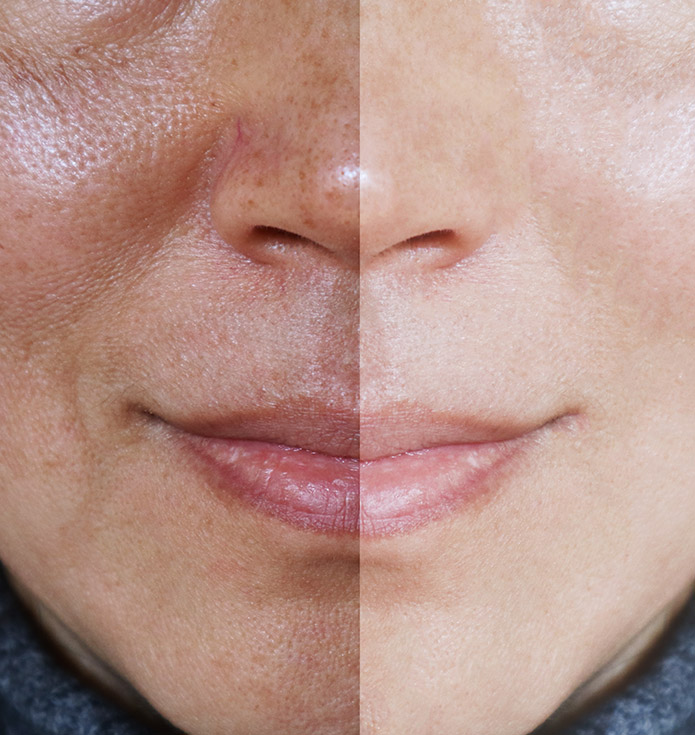 Frequently asked questions
How Does Cosmelan/Dermamelan Work?
Both Cosmelan and Dermamelan are made up of a powerful formulation of ingredients, which work together to remove pigment from the skin and inhibit tyrosinase, the basic enzyme responsible for the production of excess pigment in the skin.
Cosmelan and Dermamelan includes an in-clinic depigmenting mask application, followed by an intensive home care regime involving the application of depigmenting creams for at least 6 – 9 months following the in-clinic treatment.
We usually recommend coming in for your treatment first thing in the morning.
The skin will be cleansed and wiped with a degreasing solution before the Cosmelan or Dermamelan mask is applied to the area of concern. The application of the mask will take only 30 mins.
You will then go home with the mask which needs to stay on for the next 8 to 10 hours, depending on your skin colour and the type of pigmentation. The mask can then be washed off at home after which you will apply an anti-inflammatory cream provided by your Skin Specialist.
Usually, the skin appears red and feels sunburnt for the first 2 – 3 days.
Flaking and peeling usually begins around day 3 and can proceed for up to one week post-treatment. Once flaking subsides you will already start to notice improvement of the pigmentation.
Your Skin Specialist will instructed you when to begin with phase two of the treatment, which involves the Cosmelan or Dermamelan maintenance cream; and guided on the frequency of use as you start seeing results. Initially, when using your maintenance creams, the skin will feel sensitive, tight and may flake further, this usually subsides after about 2 weeks.
Have more questions or want to book a consultation?
" The best place to go. "
" Very good place to go to. Service is great, and Ruan is very professional. Will definitely be going back there. "
" Professional and experienced team providing best advice and treatments for your particular needs whether it be facial or body aesthetics. "
" Love love love this beautiful practice!
I have been getting laser hair removal treatments from Christelle and have been seeing amazing results! She is very professional and great at what she does. Quick and easy procedure that's practically pain-free.
I have also gotten Botox before from Dr Leon Ehlers for my gummy smile which showed amazing results and I was super happy with it!
Highly recommended! The friendly staff and beautiful view is an added bonus 🙂 "
" Where do I begin to thank Dr. Ehlers and his wonderful team. Impeccable customer care and facilities. I am extremely happy with my results. "
Michelle Cayleigh Roberts
" I'm incredibly impressed by this practice. I was treated by Dr Ehlers who was professional, had an excellent bedside manner and focused on my exact concerns. After my botox treatments my deep frown lines, that previously made me look angry, have completely disappeared. "
" A truly revolutionary one stop shop for anything health and aesthetic related!
I asked if they could help & #THEYSAIDYES
The team is friendly, warm, inviting and unbelievably forth coming! a team that now feels like family. For years i struggled with sinuses, only for the team to resolve this through blood tests and eliminating the food offenders, treating the cause! "