Microneedling is one of the most popular, non-surgical treatments amongst maturing adults who wish to treat wrinkles and increase the collagen content of their skin. This treatment is an effective method for anyone looking to reverse the hands of time and combat signs of aging in the face, neck, and chest.
The concept of skin needling is based on the skin's ability to repair itself whenever it encounters physical damage such as cuts, abrasions and other physical trauma. Immediately after an injury occurs our skin destroys old damaged tissue and replaces it with new, fresh and healthy collagen.
Skin needling allows for controlled induction of the skin's self-repair mechanism by creating micro "injuries" in the skin which triggers an entire cascade of events that results in new collagen synthesis. The result is smoother, firmer and younger looking skin down the line. A great treatment for all skin types especially patients with acne scarring, enlarged pores and moderate to severe wrinkling.
Dermapen Microneedling At A Glance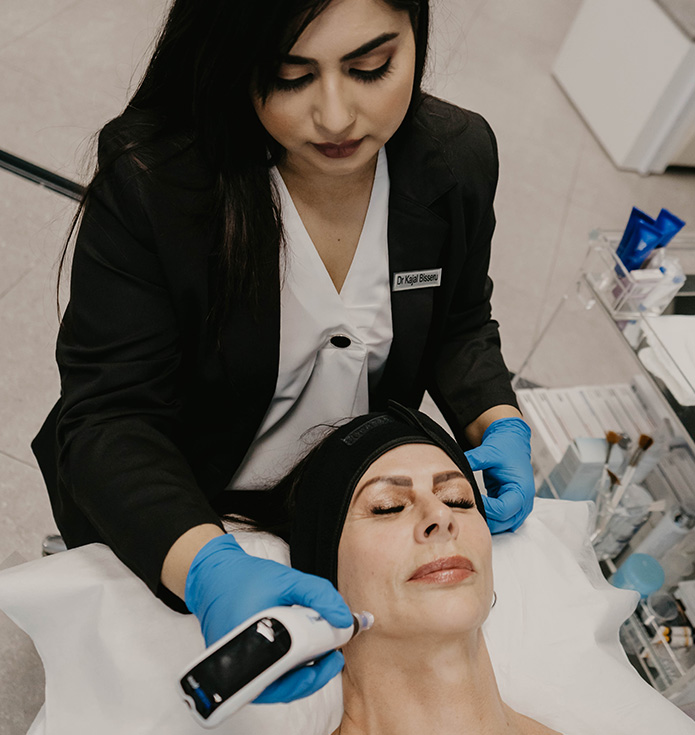 Frequently asked questions
Who would benefit from medical microneedling?
The ideal candidates for medical microneedling include those who are wanting improvement in the following:
Fines lines and wrinkles
Sun-damaged skin
Enlarged pores
Poor skin texture
Skin tightening
Scars
Stretch marks
Rosacea
Hyperpigmentation
Vitiligo
Hair loss
Why Dermapen Skin Needling over other resurfacing procedures?
At Aesthetic Options we use the latest skin needling technology – Dermapen Medical's 4th Generation Medical Microneedling System. Dermapen Medical is an advanced automated skin needling device that is widely recognised as the Gold Standard in microneedling technology in the aesthetic market.
The Dermapen vertically pierces the skin to naturally stimulate collagen and elastin by activating the skins natural wound healing process with minimal epidermal damage. The automatic, high speed vibrating function with 16 microneedles of the Dermapen 4 increases the effectiveness of the treatment by rapidly creating multiple microscopic insertions, quickly and clinically, dramatically reducing pain and discomfort for the patient.
Other advantages include:
Adjustable needling depths from 0.3mm-2.5 mm allows for treatments to be tailored and personalised to the client's needs.
Induces more micro injections per square centimeter compared to other microneedling devices.
More controlled and uniform treatment giving more consistent results.
Less pain and redness.
Ability to treat hard to reach areas such around the nose and eyes.
Although the procedure involves needles, the patient experiences minimal discomfort as we use local anaesthetic cream.
After the procedure, the skin has the appearance of moderate sunburn which improves over the next 24 to 48 hours. The skin can also feel slightly dry and possibly even flake for a further 48 hours, however, when using our provided post-treatment recovery pack, the discomfort is drastically minimised.
Breathable makeup can be worn immediately after the treatment if coverage is required, and patients can resume their daily activities.
Have more questions or want to book a consultation?
" The best place to go. "
" Very good place to go to. Service is great, and Ruan is very professional. Will definitely be going back there. "
" Professional and experienced team providing best advice and treatments for your particular needs whether it be facial or body aesthetics. "
" Love love love this beautiful practice!
I have been getting laser hair removal treatments from Christelle and have been seeing amazing results! She is very professional and great at what she does. Quick and easy procedure that's practically pain-free.
I have also gotten Botox before from Dr Leon Ehlers for my gummy smile which showed amazing results and I was super happy with it!
Highly recommended! The friendly staff and beautiful view is an added bonus 🙂 "
" Where do I begin to thank Dr. Ehlers and his wonderful team. Impeccable customer care and facilities. I am extremely happy with my results. "
Michelle Cayleigh Roberts
" I'm incredibly impressed by this practice. I was treated by Dr Ehlers who was professional, had an excellent bedside manner and focused on my exact concerns. After my botox treatments my deep frown lines, that previously made me look angry, have completely disappeared. "
" A truly revolutionary one stop shop for anything health and aesthetic related!
I asked if they could help & #THEYSAIDYES
The team is friendly, warm, inviting and unbelievably forth coming! a team that now feels like family. For years i struggled with sinuses, only for the team to resolve this through blood tests and eliminating the food offenders, treating the cause! "