High Intensity Focused Ultrasound (HIFU) is a new-generation skin tightening and lifting treatment that is rapidly gaining in popularity as a non-invasive, painless and no downtime alternative to a facelift. HIFU uses focused ultrasound pulses that penetrate into the deeper layers of the skin; these high energy pulses cause a tightening of existing collagen bundles and also stimulate new collagen formation.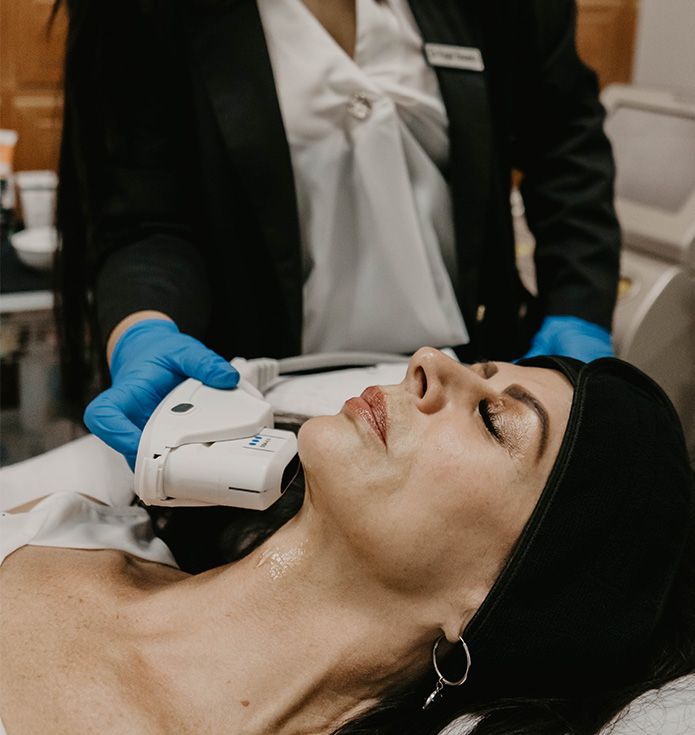 Frequently asked questions
Who are the ideal candidates for HIFU?
HIFU is suitable for all skin types and is ideal for anyone who has sagging skin but does not want to go under the knife, or who want to delay having a facelift for a few years. Although HIFU is unable to give the same results as a classical facelift, many clients opt for a HIFU treatment rather than having surgery as advantages hard to deny; there are no incisions, no scarring, no downtime and is far less expensive than surgery.
HIFU is used to treat:
Jowls and double chin
Sagging jawline
Wrinkled and sagging necks
Sleep lines and thin skin on the décolletage
Lines around the eyes
Lines around the mouth
Heavy eyelids
Sagging skin in other parts of the body can also be treated through body contouring, including the inner arms, inner thighs, above the knees and abdomen.
The treatment area will be cleansed, examined, documented, and photographed with your permission to establish a reference point for progress. A thin layer of gel is applied to the treatment area and the HIFU handpiece is applied to the skin where it releases a burst of pulses that penetrate into the deep layers of the skin. The entire area is treated in a systemic manner, and then re-treated at a more superficial depth using a lower energy. 
The treatment may be mildly uncomfortable in certain areas.  It will feel like a dull needle prick deep in the skin but only lasts for a second and then disappears.
The treatment takes between 30-45 mins and can be done during lunch time. Results can be seen immediately depending on laxity of the skin.
There is absolutely no down time with a HIFU treatment. Afterwards, you may have mild redness which settles quickly once a soothing lotion is applied. Clients may expect minimal swelling for a day or two, but it will not be noticeable to others.
How many treatments do I need and when will I see results?
Clients may require between one and six sessions, depending on the results they want to achieve.
HIFU skin tightening usually produces positive results within 2 months and most clients see full results 3 months after their final treatment. With a good skin and aftercare routine, this can help maintain results for up to 1 year.
Have more questions or want to book a consultation?
" The best place to go. "
" Very good place to go to. Service is great, and Ruan is very professional. Will definitely be going back there. "
" Professional and experienced team providing best advice and treatments for your particular needs whether it be facial or body aesthetics. "
" Love love love this beautiful practice!
I have been getting laser hair removal treatments from Christelle and have been seeing amazing results! She is very professional and great at what she does. Quick and easy procedure that's practically pain-free.
I have also gotten Botox before from Dr Leon Ehlers for my gummy smile which showed amazing results and I was super happy with it!
Highly recommended! The friendly staff and beautiful view is an added bonus 🙂 "
" Where do I begin to thank Dr. Ehlers and his wonderful team. Impeccable customer care and facilities. I am extremely happy with my results. "
Michelle Cayleigh Roberts
" I'm incredibly impressed by this practice. I was treated by Dr Ehlers who was professional, had an excellent bedside manner and focused on my exact concerns. After my botox treatments my deep frown lines, that previously made me look angry, have completely disappeared. "
" A truly revolutionary one stop shop for anything health and aesthetic related!
I asked if they could help & #THEYSAIDYES
The team is friendly, warm, inviting and unbelievably forth coming! a team that now feels like family. For years i struggled with sinuses, only for the team to resolve this through blood tests and eliminating the food offenders, treating the cause! "