We know that plants use energy from sunlight to make food, but plants are not the only living organisms that benefit from light. Scientists across the world have done research to prove and motivate the use of the light therapy in the medical field.
LED phototherapy uses a combination of pure visible red, green, blue and infrared light to stimulate the deeper skin tissue. LED phototherapy a non-invasive, non-thermal, no discomfort and no downtime procedure that, unlike lasers and IPL, can be used on all skin types. A variety of skin, face and body concerns can be targeted with different wavelengths of LED, each penetrating to a different layer of the skin to stimulate different responses within the cells without causing inflammation.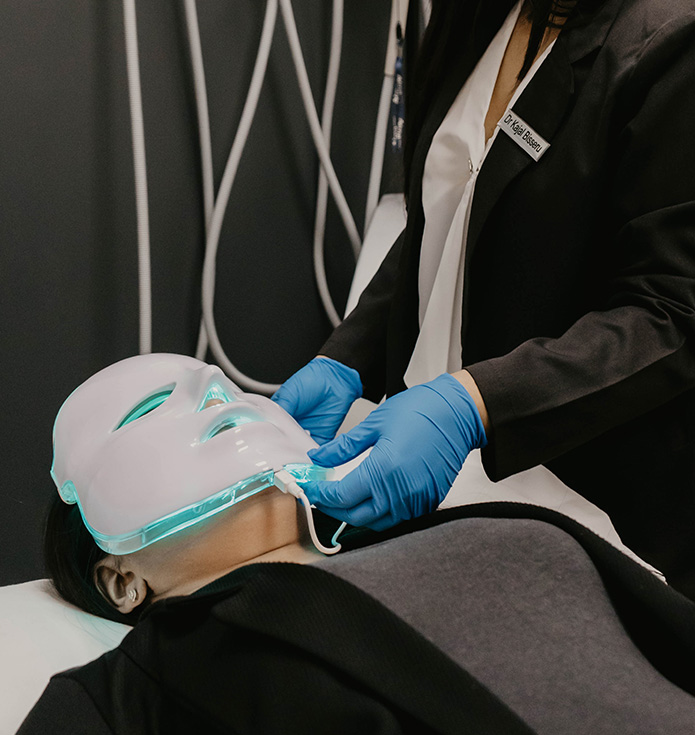 Frequently asked questions
What is LED Light Therapy used for?
LED Light Therapy's use of various wavelengths makes the procedure incredibly versatile. It can be used to address a number of skin concerns or added to a range of facial procedures to visibly enhance the results:
Acne
Rosacea
Melasma
Sunburn
Scars
Hair loss
Dull and rough skin
Stretch marks in all skin types
Photo-rejuvenation of skin (face and body)
Post laser treatment
Post-surgery healing
Post aesthetic procedures (Botox, fillers, microneedling, chemical peels)
When will I see results with LED Light Therapy?
Depending on your skin concern, your attending doctor or Skincare Specialist will advise on the number and frequency of treatments required to address your specific concern.
Each treatment session is about 20 minutes and we usually recommend a course of 8 – 10 treatments at weekly intervals. Thereafter a maintenance session is recommended every 4 – 6 weeks.
To truly reap the benefits and have visibly enhanced treatments result, LED Light Therapy is most effective when combined with other treatments such as Medical Facials and Chemical Peels.
Have more questions or want to book a consultation?
" The best place to go. "
" Very good place to go to. Service is great, and Ruan is very professional. Will definitely be going back there. "
" Professional and experienced team providing best advice and treatments for your particular needs whether it be facial or body aesthetics. "
" Love love love this beautiful practice!
I have been getting laser hair removal treatments from Christelle and have been seeing amazing results! She is very professional and great at what she does. Quick and easy procedure that's practically pain-free.
I have also gotten Botox before from Dr Leon Ehlers for my gummy smile which showed amazing results and I was super happy with it!
Highly recommended! The friendly staff and beautiful view is an added bonus 🙂 "
" Where do I begin to thank Dr. Ehlers and his wonderful team. Impeccable customer care and facilities. I am extremely happy with my results. "
Michelle Cayleigh Roberts
" I'm incredibly impressed by this practice. I was treated by Dr Ehlers who was professional, had an excellent bedside manner and focused on my exact concerns. After my botox treatments my deep frown lines, that previously made me look angry, have completely disappeared. "
" A truly revolutionary one stop shop for anything health and aesthetic related!
I asked if they could help & #THEYSAIDYES
The team is friendly, warm, inviting and unbelievably forth coming! a team that now feels like family. For years i struggled with sinuses, only for the team to resolve this through blood tests and eliminating the food offenders, treating the cause! "