Radiofrequency is a non-invasive skin rejuvenation and tightening procedure which uses electric energy to heat the skin's deeper layers without damaging the surface of the skin. The heat encourages cell turnover and induces the stimulation of elastin and collagen production which are responsible for youthful looking skin's tone, firmness and elasticity.
Radiofrequency can be used to treat:
Facial sagging
Double chin
Ageing skin, fine lines and wrinkles
Cellulite
Stretch marks
Scars, including acne scars
Stubborn fat in most body areas through body contouring
Muscular pain
Radiofrequency At A Glance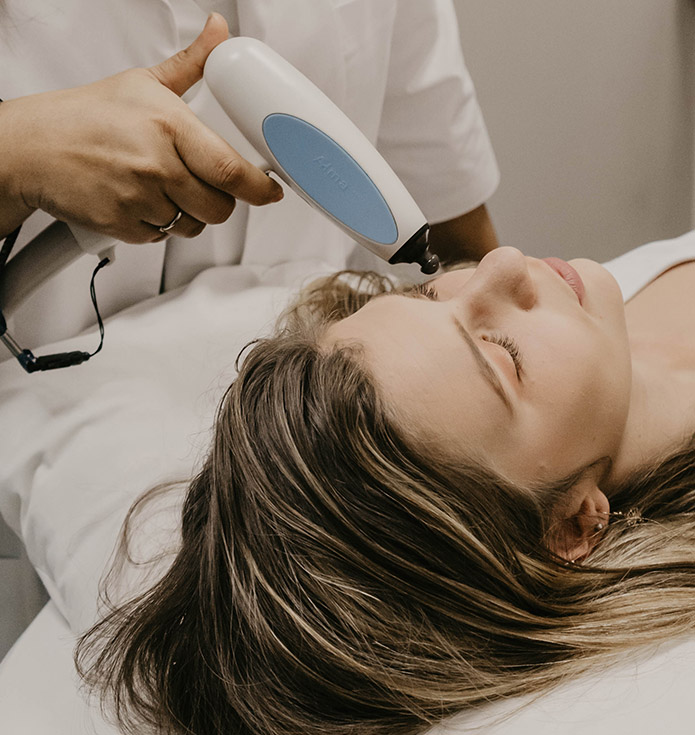 Frequently asked questions
Radiofrequency treatments are painless, non-surgical, efficient and requires no down time, which means it can be a lunch time procedure that can take about 15 to 45 minutes to complete, based upon the area being treated.
During the procedure, your specialist will use a hand piece to apply the Radiofrequency energy, moving the wand in a circular motion over the surface of your skin. At the same time, the unit's built-in cooler minimizes the sensation of heat you'll experience during the treatment.
The results of Radiofrequency are immediately evident, as the skin structures respond and visibly tighten. As your skin develops new collagen, you can expect your results to continue to improve, and your skin to appear firmer and more youthful.
Who are the ideal candidates for Radiofrequency?
Radiofrequency is suitable for all skin types and is an excellent treatment option for most individuals who are looking for a non-invasive treatment for facial sagging and double chins.
In addition, Radiofrequency can be used on the body safely and effectively to treat muscular pains, resistant fat such as tummy rolls, bra bulges and sagging buttocks as well as the appearance of cellulite.
Radiofrequency can be combined with other treatments such as Microneedling, Chemical Peels and can be done before Fillers, Wrinkle Relaxing Injections or Thread Lifting to create an overall enhanced effect.
Have more questions or want to book a consultation?
" The best place to go. "
" Very good place to go to. Service is great, and Ruan is very professional. Will definitely be going back there. "
" Professional and experienced team providing best advice and treatments for your particular needs whether it be facial or body aesthetics. "
" Love love love this beautiful practice!
I have been getting laser hair removal treatments from Christelle and have been seeing amazing results! She is very professional and great at what she does. Quick and easy procedure that's practically pain-free.
I have also gotten Botox before from Dr Leon Ehlers for my gummy smile which showed amazing results and I was super happy with it!
Highly recommended! The friendly staff and beautiful view is an added bonus 🙂 "
" Where do I begin to thank Dr. Ehlers and his wonderful team. Impeccable customer care and facilities. I am extremely happy with my results. "
Michelle Cayleigh Roberts
" I'm incredibly impressed by this practice. I was treated by Dr Ehlers who was professional, had an excellent bedside manner and focused on my exact concerns. After my botox treatments my deep frown lines, that previously made me look angry, have completely disappeared. "
" A truly revolutionary one stop shop for anything health and aesthetic related!
I asked if they could help & #THEYSAIDYES
The team is friendly, warm, inviting and unbelievably forth coming! a team that now feels like family. For years i struggled with sinuses, only for the team to resolve this through blood tests and eliminating the food offenders, treating the cause! "