Natural, radiant and glowing skin needs to be hydrated and nourished. Unlike traditional skincare products that need to be applied to the skin's surface to provide hydration and which are then washed away, skin boosters are designed to be placed just under the skin, hydrating from within in order to increase the skin's smoothness, elasticity and firmness. With skin boosters, acne-scarred or photo-damaged skin can be hydrated from the inside while gradually improving its quality, leaving your skin looking fresh and invigorated.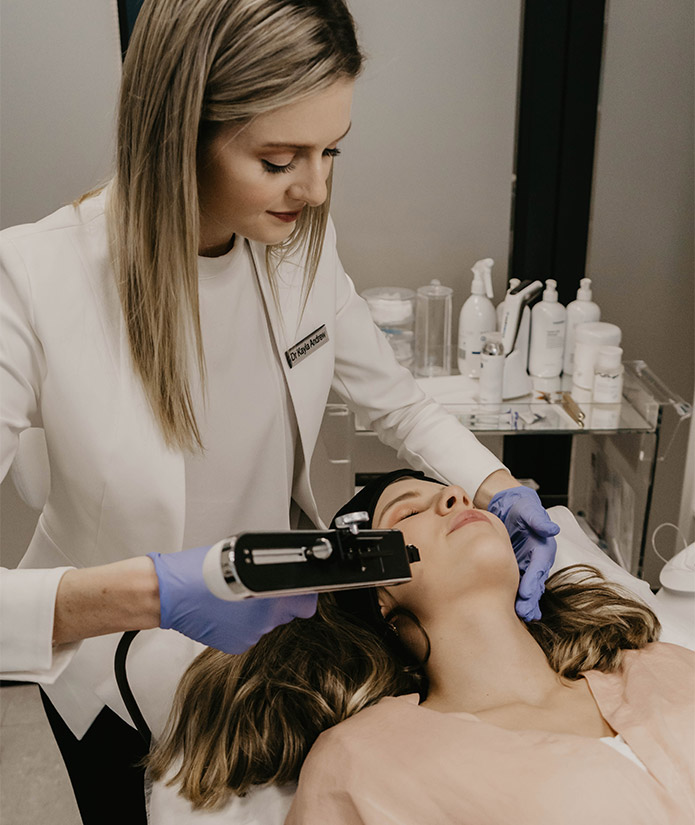 Frequently asked questions
How do Skin Boosters work?
Skin boosters contain Hyaluronic acid (HA), which is a naturally occurring substance found in our skin, but which our body loses the ability to produce as we age. HA has a remarkable ability to retain water, therefore dramatically improving the hydration of the skin. This deep hydration supports your skin's own collagen and elastin to provide an overall improvement in your skin's appearance to reveal a natural, healthy glow.
The procedure involves a series of low volume micro-injections of HA just under the skin's surface of the affected area. A topical anaesthetic is applied prior to the procedure and the product also contains local anaesthetic to minimise discomfort.
Commonly treated areas:
Full Face
Lips
Neck
Décolleté
Hands
Any sun exposed areas
A difference will be visible immediately, but it is suggested that a few sessions take place over an extended period – usually 4 weeks apart.
Slight redness or minor bruising can be expected around the treated area. Excessive sun or extreme cold should be avoided until the redness has disappeared.
Have more questions or want to book a consultation?
" The best place to go. "
" Very good place to go to. Service is great, and Ruan is very professional. Will definitely be going back there. "
" Professional and experienced team providing best advice and treatments for your particular needs whether it be facial or body aesthetics. "
" Love love love this beautiful practice!
I have been getting laser hair removal treatments from Christelle and have been seeing amazing results! She is very professional and great at what she does. Quick and easy procedure that's practically pain-free.
I have also gotten Botox before from Dr Leon Ehlers for my gummy smile which showed amazing results and I was super happy with it!
Highly recommended! The friendly staff and beautiful view is an added bonus 🙂 "
" Where do I begin to thank Dr. Ehlers and his wonderful team. Impeccable customer care and facilities. I am extremely happy with my results. "
Michelle Cayleigh Roberts
" I'm incredibly impressed by this practice. I was treated by Dr Ehlers who was professional, had an excellent bedside manner and focused on my exact concerns. After my botox treatments my deep frown lines, that previously made me look angry, have completely disappeared. "
" A truly revolutionary one stop shop for anything health and aesthetic related!
I asked if they could help & #THEYSAIDYES
The team is friendly, warm, inviting and unbelievably forth coming! a team that now feels like family. For years i struggled with sinuses, only for the team to resolve this through blood tests and eliminating the food offenders, treating the cause! "