Sports injuries are injuries that occur when engaging in sports or exercise. Sports injuries can occur due to overtraining, lack of conditioning, and improper form or technique. Most sports injuries are due to either trauma or overuse of muscles or joints.
The majority are caused by minor trauma involving muscles, ligaments, tendons, or bones, including:
Contusions (bruises)
Sprains
Strains
Fractures
Dislocations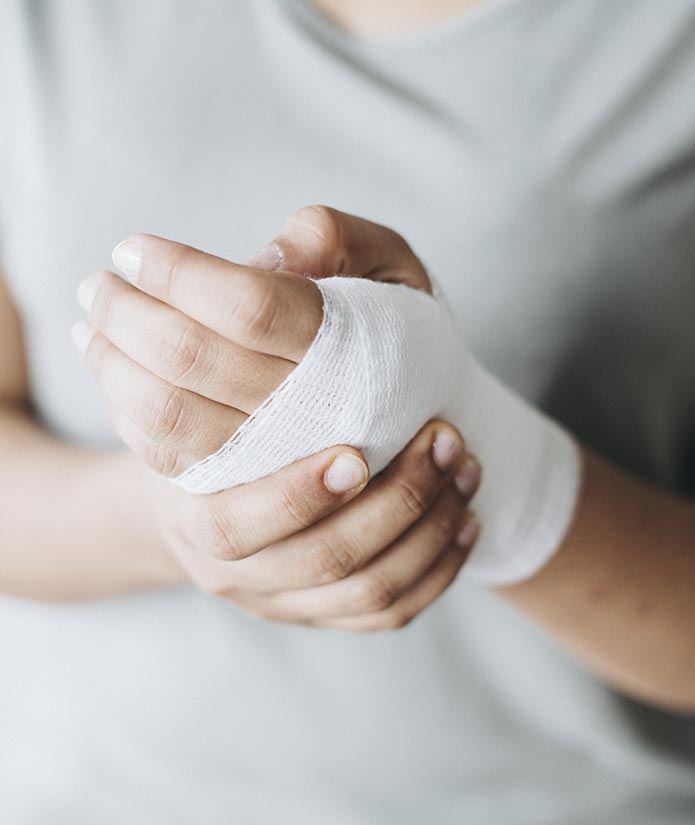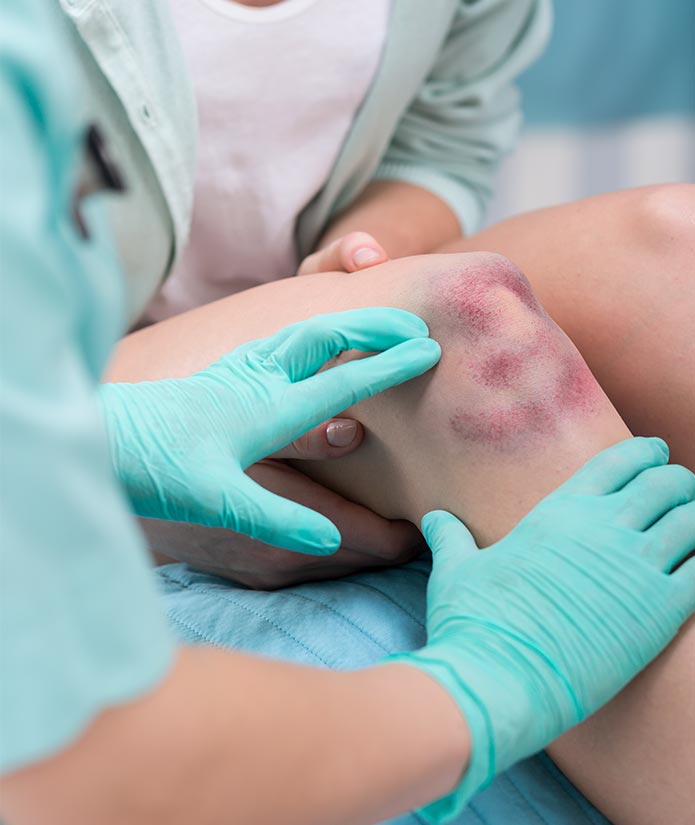 Anyone may find themselves coping with a sports injury, but some factors that may put you at an increased risk for injury include:
Childhood – Children are more active and often don't know their physical limits. That means they may push themselves to injury more easily than adults or teenagers.
Age – The older you grow, the more likely you are to experience an injury. Age also increases the odds that you have sports injuries that linger. New injuries may also aggravate any previous injuries.
Lack of care – Sometimes, serious injuries start off as small ones. If they're left untreated or ignored, they can develop into a serious injury.
Being overweight – Carrying around extra weight can put unnecessary stress on your joints, including your hips, knees, and ankles. The pressure is magnified with exercise or sports.
Not being regularly active
Not warming up properly before exercise
Playing contact sports
A rehabilitation program for sports injuries is designed to meet the needs of the individual patient, depending on the type and severity of the injury. Active involvement of the patient and often the family is vital to the success of the program.
The goal of rehabilitation is to help the patient return to the highest level of function possible, while improving the overall quality of life – physically, emotionally, and socially.
In order to help reach these goals, sports injury rehabilitation programs may include the following:
Physiotherapy
Activity restrictions
Exercise programs to stretch and strengthen the area
Conditioning exercises to help prevent further injury
Heat or cold applications and whirlpool treatments
Applications of braces, splints, or casts to immobilize the area
Use of crutches or wheelchairs
Pain management techniques
Patient and family education
" The best place to go. "
" Very good place to go to. Service is great, and Ruan is very professional. Will definitely be going back there. "
" Professional and experienced team providing best advice and treatments for your particular needs whether it be facial or body aesthetics. "
" Love love love this beautiful practice!
I have been getting laser hair removal treatments from Christelle and have been seeing amazing results! She is very professional and great at what she does. Quick and easy procedure that's practically pain-free.
I have also gotten Botox before from Dr Leon Ehlers for my gummy smile which showed amazing results and I was super happy with it!
Highly recommended! The friendly staff and beautiful view is an added bonus 🙂 "
" Where do I begin to thank Dr. Ehlers and his wonderful team. Impeccable customer care and facilities. I am extremely happy with my results. "
Michelle Cayleigh Roberts
" I'm incredibly impressed by this practice. I was treated by Dr Ehlers who was professional, had an excellent bedside manner and focused on my exact concerns. After my botox treatments my deep frown lines, that previously made me look angry, have completely disappeared. "
" A truly revolutionary one stop shop for anything health and aesthetic related!
I asked if they could help & #THEYSAIDYES
The team is friendly, warm, inviting and unbelievably forth coming! a team that now feels like family. For years i struggled with sinuses, only for the team to resolve this through blood tests and eliminating the food offenders, treating the cause! "