Nutrigenomics is the study between nutrition and a person's genes. Nutritional genomics examines and analyses how nutrients impact our genes, how our genes impact reactions to specific nutrients, and why our bodies may be struggling with detoxing or metabolizing.
This is the epitome of health and wellness uniquely tailored to you.
Your DNA is the building block and controller of your cells and all the processes it's responsible for. By knowing your DNA composition, you have the potential to limit or prevent inherited health problems. Genetic Testing will help you to understand the quality of your metabolism, inflammatory processes and detox phases; while any deficiencies could be addressed through diet and/or supplementation. Genetic Testing truly motivates you to live a lifestyle in support of your health and overall wellbeing.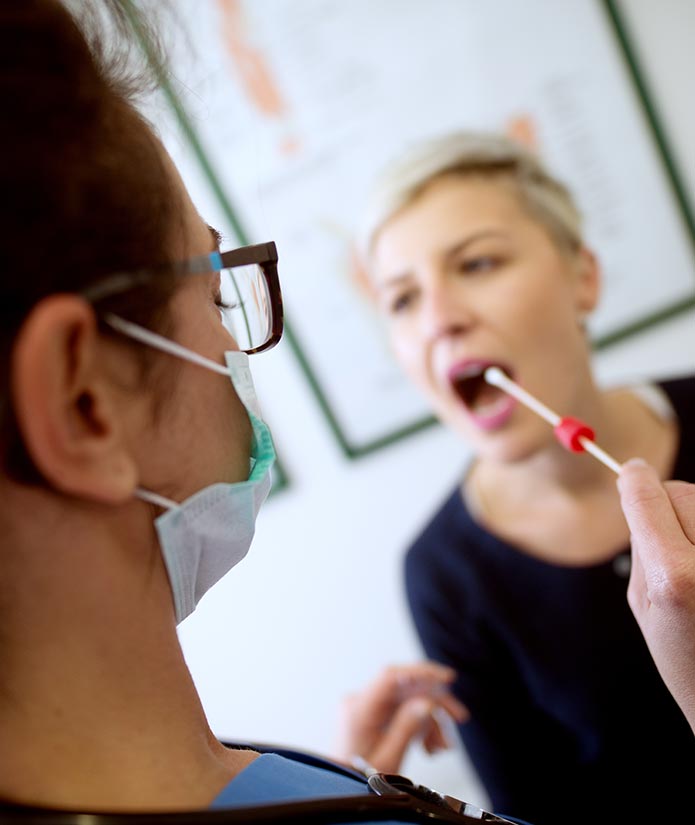 Frequently asked questions
What are the benefits of Genetic Testing?
Genetic Testing can assist with:
Weight Management
Chronic disease risk management
Cognitive health and mood disorders
Athletic performance and recovery requirements from high-intensity exercise
Who can do Genetic Testing?
Everybody can benefit from the genetic test, as DNA profiling can help to identify an underlying cause of many health problems. It will help you to choose the right nutrients and foods in order to achieve optimum health and wellbeing.
How does Genetic Testing work?
The DNA sample is taken by oral swab and tested in a lab that generates all your results.
You will be able to choose which test combinations you would like to do.
Results take about two to three weeks to be sent back from the laboratory.
Upon return of the results, your health practitioner will make an appointment with you for a detailed discussion of your results.
Based on your unique genetic profile, personalised recommendations for health interventions are made and any need for supplementation will be discussed.
Which Genetic Tests are available?
DNA Diet – Provides insight into how your body metabolizes fats and carbohydrates and what specific type of meal plan / lifestyle to follow: (Low fat / Low Carb / Mediterranean). The DNA Diet also recommends the amount of exercise you should aim for each week, based on your metabolic requirements.
DNA Sport – Provides insight into strength or endurance potential, recommended recovery time and risk of injury.
DNA Health – This gives a comprehensive picture of how your body metabolises different nutrients. In addition, it provides insight into how your body's response to different genes, such as: osteoporosis risk genes, liver enzyme function, cancer risk genes, oestrogen metabolism, cardiovascular disease risk genes, lactose intolerance gene, gluten intolerance gene and caffeine sensitivity gene.
DNA Oestrogen – Detailed insight into how your body metabolizes oestrogen.
DNA Skin – Insight into how your skin could age and the lifestyle and nutrition to support healthy skin.
Pharmacogenomics (GeneRx) – A test that provides information on the way your body processes certain types of medication.
Have more questions or want to book a consultation?
" The best place to go. "
" Very good place to go to. Service is great, and Ruan is very professional. Will definitely be going back there. "
" Professional and experienced team providing best advice and treatments for your particular needs whether it be facial or body aesthetics. "
" Love love love this beautiful practice!
I have been getting laser hair removal treatments from Christelle and have been seeing amazing results! She is very professional and great at what she does. Quick and easy procedure that's practically pain-free.
I have also gotten Botox before from Dr Leon Ehlers for my gummy smile which showed amazing results and I was super happy with it!
Highly recommended! The friendly staff and beautiful view is an added bonus 🙂 "
" Where do I begin to thank Dr. Ehlers and his wonderful team. Impeccable customer care and facilities. I am extremely happy with my results. "
Michelle Cayleigh Roberts
" I'm incredibly impressed by this practice. I was treated by Dr Ehlers who was professional, had an excellent bedside manner and focused on my exact concerns. After my botox treatments my deep frown lines, that previously made me look angry, have completely disappeared. "
" A truly revolutionary one stop shop for anything health and aesthetic related!
I asked if they could help & #THEYSAIDYES
The team is friendly, warm, inviting and unbelievably forth coming! a team that now feels like family. For years i struggled with sinuses, only for the team to resolve this through blood tests and eliminating the food offenders, treating the cause! "