We are committed in helping our clients achieve their personal health goals.
We believe in using innovative and personalised health and nutrition programs.
Depending on your goals and lifestyle, we help you choose the programme that will work for you.
Our Medical Weight Loss solutions include: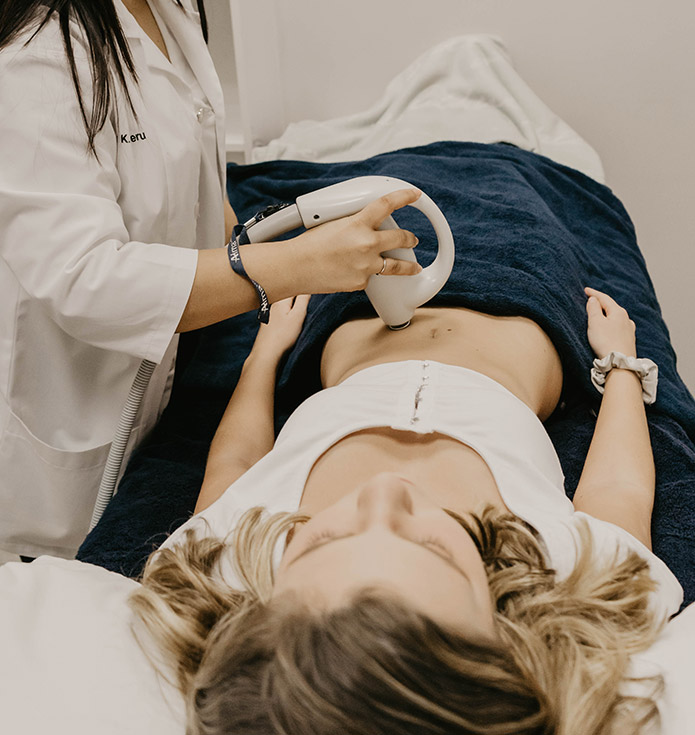 Body contouring is term used to describe non-surgical methods to help firm-up, shape up and assist in reducing unwanted rolls, bumps and folds on the body. It is also referred to as non-surgical fat reduction or body shaping.
There are a variety of non-surgical procedures available for body contouring. The aim of these is to reduce or remove stubborn pockets of fat, to tighten up areas with loose or sagging skin, and to provide better 'shape' to different areas of the body. It is important to note that body contouring does not equate to weight loss. It is equally important to note that the ideal candidate for body contouring treatments is someone close to their goal weight, but who has a few stubborn areas that are resistant to diet and exercise.
The treatments available at Aesthetic Options, include:
Which areas are suitable for Body Contouring?
The most common treatment zones include:


Double chin
Bra bulges and back fat
Arms (also known as "bat wings")
Love handles
Abdomen
Inner-thighs
Outer-thighs
Banana roll (the fold underneath the buttocks)
What are the benefits of Body Contouring?
Convenience: Body contouring procedures are non-surgical and minimally to non-invasive. There is no downtime and you can resume daily activities immediately after the treatment.
Risks and side-effects: If any, these tend to be very mild and include redness, swelling, sensitivity, tingling, discomfort and bruising.
Cost: As opposed to having surgery, the cost of non-invasive, body treatments is significantly less.
How long do body contouring results last?
As with any treatment, maintenance is essential to keep your results.

All body contouring programmes should include a healthy lifestyle, a balanced diet, proper hydration, regular exercise, and include maintenance treatments. This will help you to prolong, maximize and maintain long-term results.
OPTIFAST is a structured nutritional and behavioural change programme developed by leading experts and supported by medical professionals.
The programme follows a Very Low Calorie Diet (VLCD) which provides 800 kcal per day for a period of 8 weeks. This is less than half the calorie content of a conventional weight loss diet.
The OPTIFAST program utilizes a meal replacement plan that transitions to self-prepared everyday meals, in conjunction with comprehensive patient education and support.
The programme has shown to significantly reduce body weight by 1 kg – 2.5 kg per week and consists of three scientifically formulated shakes, nutritional bars, soups and desserts taken daily as a meal-replacement, with low-carb vegetables and salad as desired.
The OPTIFAST programme is structured into four levels: three levels for active weight loss, and one level for weight maintenance.
Intensive Phase:
Any three OPTIFAST products per day replace all meals plus two cups of low starch vegetables with a teaspoon of vegetable oil and sufficient water intake.
Food Reintroduction Phase:
Any two OPTIFAST products per day with one calorie controlled meal, low starch vegetables, one serving fruit and dairy and sufficient water intake.
One OPTIFAST product per day with two calorie controlled meals, low starch vegetables, two serves fruit and one serve dairy and sufficient water intake.
Maintenance Phase:
Finally in this phase the OPTIFAST products are eliminated and three low-calorie meals are reintroduced to the diet.
The OPTIFAST VLCD programme is designed to totally replace your normal food intake in the dietary management of obesity. The OPTIFAST VLCD products contain carbohydrates, fatty acids and protein, which help preserve lean body mass (muscle) while you lose your fat stores. They also contain vitamins and minerals to ensure that you are receiving all the nutrients you require.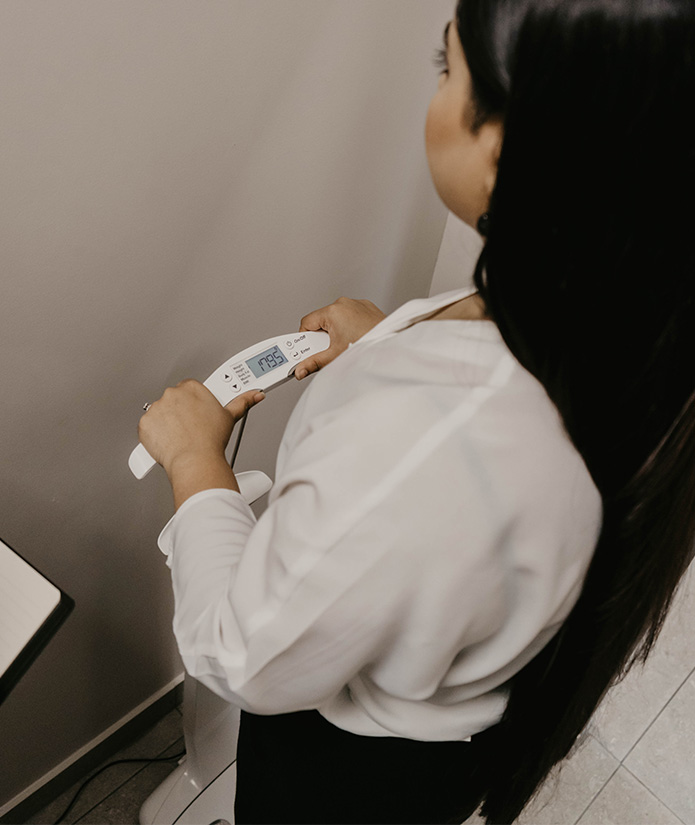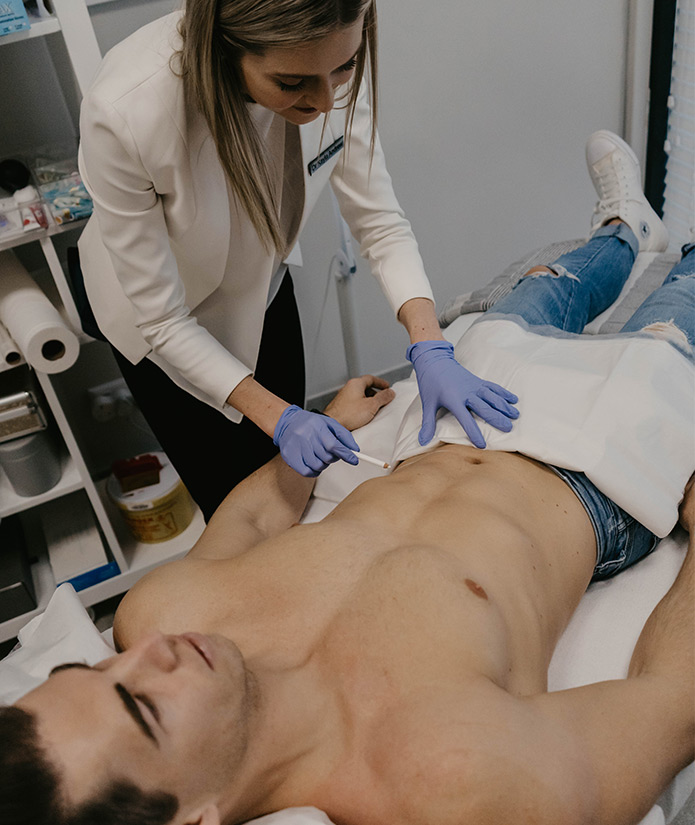 The Medi-Lean Medical Weight Loss Programme is based on the HCG diet developed by Dr. Simeon. HCG helps the body to release excess fat, hence releasing the calories for your body to use as energy. However, benefits of HCG are not only limited to fat loss; HCG has also been shown to have a positive effect on mood, increase energy levels, relieve body pains, decrease migraines and aids in resetting the metabolism.
HCG and a very low calorie diet (VLCD) assists the body to normalise abnormal Leptin levels (a hormone that plays a fundamental role in fat metabolism and satiety). In addition, HCG has the benefit to improve and moderate hormone imbalances, which may often play a contributing role to stubborn weight loss.
Human chorionic gonadotropin (HCG) is a hormone present at high levels in early pregnancy. It stimulates the production of essential pregnancy hormones and has also been used to treat infertility issues in men and women.
The Medi-Lean Programme is based on a low-GI eating plan, together with the patient-specific supplementation as well as a series of daily HCG injections for a minimum of 4 weeks to a maximum of 6 weeks. Your body tends to develop a resistance against the HCG injections after 6 weeks.
A washout period of 2-6 weeks is necessary to clear out all HCG from your system, after which another course can be administered.
Who is the right candidate for HCG?
The majority of woman and men can use HCG for weight loss.
Programme excludes women who are pregnant or breastfeeding.
How much weight can I expect to lose?
The programme has shown to significantly reduce body fat mass by 6 kg – 10 kg per cycle.
Your diet, injections and supplements will be different during each phase of the Medi-Lean Weight Loss Programme.
Start your journey to a new you under the supervision of a Medical Doctor and a Registered Dietitian.
" The best place to go. "
" Very good place to go to. Service is great, and Ruan is very professional. Will definitely be going back there. "
" Professional and experienced team providing best advice and treatments for your particular needs whether it be facial or body aesthetics. "
" Love love love this beautiful practice!
I have been getting laser hair removal treatments from Christelle and have been seeing amazing results! She is very professional and great at what she does. Quick and easy procedure that's practically pain-free.
I have also gotten Botox before from Dr Leon Ehlers for my gummy smile which showed amazing results and I was super happy with it!
Highly recommended! The friendly staff and beautiful view is an added bonus 🙂 "
" Where do I begin to thank Dr. Ehlers and his wonderful team. Impeccable customer care and facilities. I am extremely happy with my results. "
Michelle Cayleigh Roberts
" I'm incredibly impressed by this practice. I was treated by Dr Ehlers who was professional, had an excellent bedside manner and focused on my exact concerns. After my botox treatments my deep frown lines, that previously made me look angry, have completely disappeared. "
" A truly revolutionary one stop shop for anything health and aesthetic related!
I asked if they could help & #THEYSAIDYES
The team is friendly, warm, inviting and unbelievably forth coming! a team that now feels like family. For years i struggled with sinuses, only for the team to resolve this through blood tests and eliminating the food offenders, treating the cause! "